Situated along the border of the San Francisco Bay Area, Mountain House is a breathtaking planned community. Although it is technically considered a master planned community, the U.S. Census Bureau classifies the area as a census-designated place (CDP). Known for its excellent schools, idyllic community parks, and picturesque setting, it is no surprise that Mountain House is experiencing rapid population growth.
Mountain House was officially approved as a planned community in 1994 with homes finally popping up in 2001. The community is still growing with new homes being built today. Once the community is complete, it is expected to have over 15,000 residential properties and a population of almost 50,000 residents!
Here's what you can look forward to while living in Mountain House, California.
Where Is Mountain House?
Mountain House is in San Joaquin County and part of the Oakland/San Francisco Bay Metro Area. It's bordered by Livermore, Tracy, Byron, Altamont, and Discovery Bay.
Surrounded by nature, this somewhat secluded locale is a great place to live for outdoor enthusiasts. Nearby, you'll find places such as the Bethany Reservoir State Recreation Area, Clifton Court Forebay, and several marinas.
Mountain House to San Francisco is a 58.6 mile drive. This equates to a commute time of about one and a half hours.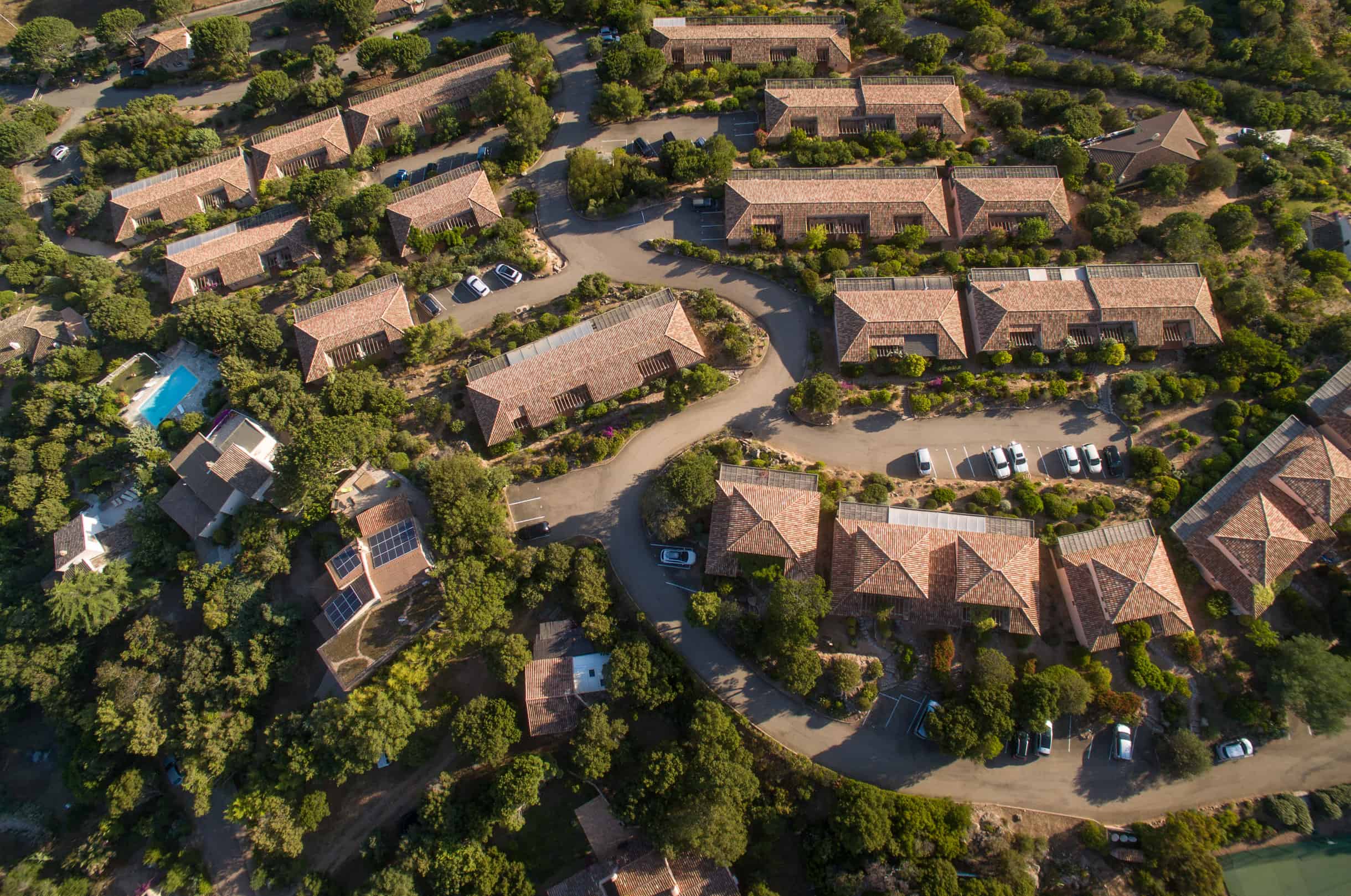 Mountain House Population & Demographics
The population of Mountain House is 21,387. In terms of population density, this translates to 4,692.4 people per square mile. Since 2010, the population of Mountain House has grown by over 121%!
Mountain House demographics:
Percentage of men vs women: 51% male, 49% female
Median age: 30.9
Racial and ethnic composition: 41% Asian, 28% White, 13% Hispanic, 8% Black, 8% two or more races
Median household income: $161,086
Educational attainment: 47.3% bachelor's degree or higher
Foreign-born population: 35.5%
Mountain House is a relatively safe place to live. Select neighborhoods are better than others. Those that are centrally located are the safest. The overall Mountain House crime rate is 2% lower than the national average, and property crime is 3% lower than the national average. While living in Mountain House, you will be served by the San Joaquin County Sheriff's Department.
Cost of Living in Mountain House
Because it's a census-designated place, specific figures for the Mountain House cost of living are sparse. However, it's easy to get a good understanding of how much living in Mountain House costs by looking at the surrounding area.
When looking at the Cost of Living Index (COLI), the closest metro area is Stockton CA. Here, the COLI is 117.1, which is 17% above the national average of 100. This means that living in Mountain House is relatively affordable for California and the Bay Area.
According to the Economic Policy Institute, a family of four would need to earn $85,959 per year to afford living in Mountain House.
Typical Mountain House Living Expenses:
Average Mountain House utilities per month: $208.56
Fitness club/gym membership fee: $32 per month
Private preschool or kindergarten: $725 per month
One dozen eggs: $1.25
One gallon of milk: $3.65
One pound of locally produced cheese: $6.22
One pair of jeans: $44.83
Planning on purchasing a home upon moving to Mountain House? The Mountain House median home price is $937,018. As you plan your relocation, check out Mountain House, CA homes for sale.
Prefer to move into a rental instead? According to RentCafe, average rent in Mountain House is near $1,552 per month for a 788 square foot residence. This figure is slightly less than the current U.S. average rent.
Best Mountain House Neighborhoods | Where to Live in Mountain House
Even though the area is a small community, it is important to learn about the best neighborhoods in Mountain House. While each part of Mountain House has its merits, finding the right locale is largely dependent on your needs and preferences.
The western portion of the area is one of the most family friendly neighborhoods in Mountain House. Located within walking distance of multiple schools (including Sebastian Questa Elementary School, ​​Bethany Elementary School, and Altamont Elementary School), this is a great place for families with school-aged children to live. On the western side of the community, you can also visit Bethany Park and Altamont Park. Both parks provide play structures, as well as ample space for kids to run around.
Fitness and outdoor enthusiasts should consider living on the eastern part of Mountain House. Dog-friendly and well-maintained, the various parks on this side of town provide room to get out and bask in nature. Residents live minutes from Sydney's Dog Park, Central Community Park, and Wicklund Park. Each has their own unique amenities, including sports courts, playgrounds, walking paths, and more.
As far as actual residential areas are concerned, all locales boast stunning homes that are upscale and luxurious. The best strategy for choosing the right neighborhood in Mountain House is to move near your favorite amenities and conveniences.
Mountain House Weather & Climate
Mountain House has a Mediterranean climate. Average daily high temperatures range between 55°F (in December) and 91°F (in July). Average daily lows throughout the year range between 40°F and 60°F.
It does not snow in Mountain House. Average annual rainfall is 13″.
The best time to visit Mountain House is spring or fall for their mild, comfortable temperatures and clear weather.
Things to Do in Mountain House
Looking for the best things to do in Mountain House? Since the area is so small in size, residents typically venture out to neighboring towns and cities for various attractions and entertainment. In town, be sure to check out top shopping destinations such as the Mountain House Farmers Market, the Cordes Village Plaza, and Wicklund's Market.
View this post on Instagram
Love the thrill of a good adrenaline rush? Minutes from Mountain House in Byron, locals who are 18 and older have the opportunity to go skydiving at Bay Area Skydiving. Highly-rated and perfect for both beginners and experienced skydivers, spending your day here is sure to make memories that will last a lifetime.
6901 Falcon Way, Byron, CA 94514, 925-634-7575
For a more relaxed experience, dog-friendly and kid-friendly Central Community Park is the place to go. Serving as the area's largest park, visitors have a myriad of ways to enjoy this lovely outdoor space. While exploring the park, be sure to check out the sports fields, fountain, playground, and dog park.
25 Main St, Mountain House, CA 95391, 209-831-2300
Situated next to Altamont Elementary School, Alamont Park is a great place for children. Lined with towering palm trees, the park is equipped with grass fields, a playground, and a picnic area. This is a wonderful spot for families to visit throughout the entire year.
Mountain House, CA 95391, 209-836-7240
Additional Mountain House attractions:
Looking for more things to do in Mountain House? The Mountain House Parks and Recreation department manages all of the neighborhood's community parks. You can also check the Mountain View calendar of events to find upcoming happenings in the area!
Mountain House Restaurants
Want to know the hottest places to dine out in Mountain House? Close to town, there are plenty of outstanding restaurants that span a variety of cuisines. Learn about some of the best eateries located near Mountain House.
Mountain House Bar & Grill. Described as a hidden gem, Mountain House Bar & Grill is a customer favorite. Approachable and unassuming, this is a wonderful place to order delicious American fare and your favorite adult beverage. Outdoor patio and indoor seating available. 16784 W Grant Line Rd, Tracy, CA 95391, 925-447-0365.
Mazaa Kabob House. In search of a unique dining experience near Mountain House? Order from a sumptuous menu of traditional Afghani dishes. Favorites include the Mazaa wraps, Bolani, and the variety of kabobs. 2745 Naglee Rd, Tracy, CA 95391, 209-830-4402.
Town & Country Cafe. Individuals who enjoy simple breakfast, lunch, and dinner diners will love the cozy, small town atmosphere at the Town & Country Cafe. The restaurant offers a selection of homemade bakery items, egg dishes for breakfast, vegan and gluten free options, and Italian inspired entrees. 27 W 10th St, Tracy, CA 95376, 209-835-6751.
Jobs in Mountain House
Due to the small size of this census-designated place, there are no major employers in the immediate community. However, many people living in Mountain House commute to places such as Tracy and Stockton for work. Some of the largest employers in these cities include Pacific Gas & Electric, Kaiser Permanente, AT&T Communications, San Joaquin Delta College, Tracy Unified School District, and City of Tracy.
Currently, the per capita income in Mountain House is $41,311. Prior to moving to Mountain House, search jobs near Mountain House.
Mountain House Schools
Mountain House is part of the Lammersville Unified School District. For being such a compact community, there is a high density of public schools in the immediate area. Top schools in Mountain House include Bethany Elementary School, Mountain House High School, Wicklund Elementary School, and Sebastian Questa Elementary School.
Serving students and residents is the Mountain House Branch Library, which is located at 201 E Main St.
Mountain House Statistics & Information
County: San Joaquin County
Mountain House area: 3.192 square miles
Mountain House zip code: 95391
Mountain House area code: 209
Mountain House elevation: 82 feet
Mountain House time zone: Pacific Standard Time (PST)
Closest airport to Mountain House: Stockton Metropolitan Airport (SCK), 26 miles away
Mountain House CA Map
Explore more things to do, restaurants, and amenities with this map of Mountain House.
Thinking about living in Mountain House in the near future? When you are ready to relocate, be sure to call our top-rated Mountain House movers at Southbay Moving Systems. Serving over 1,200 customers per year during our 30+ years in business, we know how to deliver an exceptional moving experience. Contact us today to request your free moving services quote.