Gonzales is a city on the west coast of California and was incorporated in 1947. Once a Swiss dairy community, Gonzales is now known for its wineries, agricultural scene, and top-rated schools. As such, Gonzales is a good place to live. If you are thinking about moving to Gonzales, then there are just a few things you should know about this incredible city.
Where Is Gonzales?
Gonzales is in Monterey County, California, and is just 16 miles southeast of the county seat of Salinas. Gonzales is close to many natural attractions, such as Pinnacles National Park, Tassajara Hot Springs, and Pfeiffer Big Sur State Park.
It is only 75 miles from Gonzales to San Jose and 123 miles from Gonzales to San Francisco. So, when you are living in Gonzales, you have easy access to many of the state's major cities.
Gonzales Population & Demographics
The population of Gonzales is 8,647, making up just a small percentage of Monterey County, where the population is 439,035.
Gonzales Demographics:
Sex ratio: 51% male, 49% female
Median age: 29
Racial and ethnic composition: 90.6% Hispanic or Latino, 7.1% White, 1.3% Asian, 0.7% American Indian, 0.5% Native Hawaiian
Median household income: $73,906 (compared to California average of $84,097)
Educational attainment: 62.7% high school degree (or higher), 6.2% bachelor's degree (or higher)
Foreign-born population: 28.2%
Is Gonzales CA Safe?
One of the major benefits of living in Gonzales is that it is a very safe place to live. According to the FBI, the overall crime rate in Gonzales is 913 crimes per 100,000 people. This is 64.6% lower than the California average and 61.1% lower than the national average. The violent crime rate in Gonzales is 156 per 100,000 people, which is 64.7% lower than the state average and 59.8% lower than the national average.
When living in Gonzales, you will be served by the Gonzales Police Department. The department has 14 sworn police officers and is led by Chief of Police Keith Wise. You can easily access the department's daily police logs to keep up with crime in the city.
Things to Do in Gonzales
Residents of Gonzales can do their grocery shopping at popular stores such as Santa Fe Foods and Farmers Food Market. There are also a number of trendy boutique clothing stores, such as The New West Western Wear and Juanis Almanza. Here are a few of the best things to do in Gonzales.
Gonzales is nicknamed the "Wine Capital of Monterey County," and for good reason! The city is home to some of the best wineries in all of California. Pisoni Family Vineyards is one of the best things to do in Gonzales. Stop by to grab a glass of wine and buy a bottle to take home!
Pisoni Family Vineyards, 28275 Alta St, Gonzales, CA 93926, (831) 675-7500
View this post on Instagram
Located just a few miles away in Soledad, Mission Soledad is one of the best attractions near Gonzales. Mission Soledad is a Spanish mission that was founded all the way back in 1791. It was restored in 1954 and is now both a Catholic chapel and a public museum. Mission Soledad is a great stop if you are heading out for the day. There are two wineries within two miles of the Mission, and Los Padres National Forest is just to the south.
Mission Soledad, 36641 Fort Romie Rd, Soledad, CA 93960, (831) 678-2586
Additional Gonzales Attractions
Looking for more things to do in Gonzales, CA? Check out the City of Gonzales' parks and facilities page for more events and things to do in Gonzales with kids.
Gonzales Restaurants
There is no shortage of amazing restaurants in Gonzales. South Alta Street is lined with many different restaurants and cafes to try out. Here are just a few of the best Gonzales, CA restaurants.
Luigi's is easily one of the best places to eat in Gonzales. This family-owned restaurant serves up authentic Italian dishes made from scratch every day. This cozy restaurant is owned and staffed by three generations of the Bozzo family.
Luigi's, 346 Alta St, Gonzales, CA 93926, (831) 675-7800
View this post on Instagram
Carlitos Steakhouse & Bar
When it comes to restaurants in Gonzales, CA, you can't skip out on Carlitos Steakhouse & Bar. This laid-back steakhouse serves large portions of steak, salads, and pasta. When you are done with your food, you can enjoy entertainment on one of the large televisions or play a game of pool in the billiards room.
Carlitos Steakhouse & Bar, 148 Alta St, Gonzales, CA 93926, (831) 675-3401
Average Rent & Homes for Sale in Gonzales CA
Are you thinking about buying a home or renting an apartment in Gonzales, California? There are 2,312 housing units in Gonzales. 55% of the units are owner occupied and 45% of the units are renter occupied.
According to Redfin, the average home price in Gonzales CA is $430,000. This is slightly higher than the U.S. average home price of $407,857. The Gonzales real estate market is slowing down, with home prices down 38.1% compared to last year. Gonzales has a great mix of both older, charming homes and large, new construction homes.
The average rent in Gonzales is about $2,206 for a four bedroom house. There are not many apartments in the Gonzales area, so if you are looking to rent, it will likely be in the form of a larger house.
Jobs in Gonzales
Are you searching for jobs in Gonzales CA? Most people commute to nearby cities for work, but there are many job opportunities in Gonzales itself. According to the city website, Gonzales has 2,230 employed residents, with 239 of them working in the city and 1,991 commuting to work elsewhere.
Agriculture makes up 70% of the total jobs in Gonzales. Other popular industries include educational services, manufacturing, and hospitality.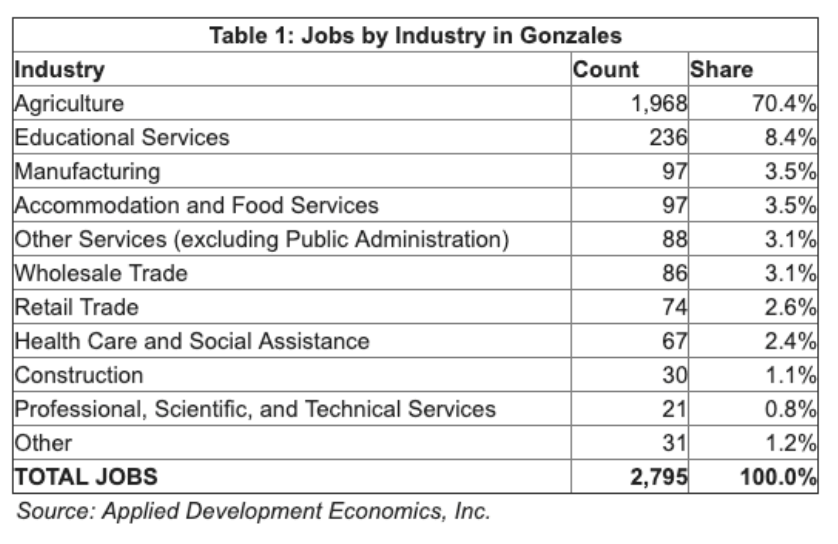 If you are searching for Gonzales jobs, then check out the city job board or search for 'Gonzales CA jobs' on Indeed.
Gonzales Schools
Students living in Gonzales are served by the Gonzales Unified School District. The Gonzales school district consists of La Gloria Elementary School, Fairview Middle School, Gonzales High School, and Gonzales Adult School.
View this post on Instagram
There are no colleges in Gonzales, but there are many nearby options, such as Hartnell College and Gavilan College.
When living in Gonzales, you will have access to the Gonzales Branch of the Monterey County Library.
Gonzales Statistics & Information
County: Monterey
Gonzales area: 1.95 square miles
Gonzales Zip code: 93926
Gonzales elevation: 135 feet
Gonzales time zone: UTC-8 (Pacific)
Closest airport to Gonzales: Monterey Regional Airport (MRY), 30.6 miles away
Gonzales CA Map
Explore more things to do, restaurants, and amenities with this map of Gonzales.
If living in Gonzales sounds good to you, then let Southbay Moving Systems help you! Our experienced Gonzales movers can handle any and all of your moving needs at an affordable price. Give us a call today at 831-786-5537 to discuss your move and receive a free quote.