Monterey is a beautiful place to call home. With endless places to explore, incredible views, and a family-friendly community, Monterey, CA, is a great place to plant your roots. The average home value is $982,500, and the median rent ranges from $1,995 to $3,500+, depending on the size and location. Regardless if you're relocating for a new job or looking to retire, Monterey is the best choice!
Monterey Cost of Living
Different factors can affect the cost of living in a city. These could include: the state, household size, neighborhoods, your lifestyle, and goals. The cost of living index allows you to see whether or not you can afford to live in Monterey and how it compares to your current city–all before moving.
Cost of Living Index
The Cost of Living Index (COLI) gets determined based on the cost of living. Then we compare that number to the national average, which gets set at 100 for a baseline. For Monterey, CA, the COLI is 174.9, which means it's 74.9% more expensive to live in Monterey than in the rest of the United States.
Plus, the Monterey cost of living is 30% higher than the rest of California. While the cost of living is more expensive, the quality of life, family-friendly community, and endless areas to explore is well-worth the price.
Monterey Consumer Price Index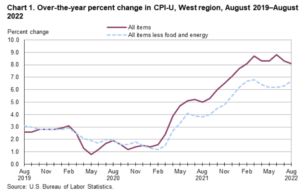 Over the last year, the west coast has seen an overall CPI (Consumer Price Index) increase of 8.1%. But there is one category that has seen a greater increase. Due to the price of gasoline exploding, energy prices rose 20% in 12 months. Then for food, there has been a 6.7% increase over the past year. 
BLS Consumer Expenditure Survey in Monterey
The Consumer Expenditure Survey allows you to see data based on expenses, characteristics of the consumer, and income. Based on the information for the closest available metro area to Monterey (San Francisco), the average household ended up spending $62,188 per year based on the analytics from 2019-2020. Check out the breakdown to see how the average household spends their monthly paycheck in each category:
Housing: 37.6%
Transportation: 12.1%
Food: 12.5%
Personal insurance and pensions: 13.2%
Healthcare: 6.2%
Entertainment: 4.4%
Cash contributions: 5.7%
Apparel and services: 2.3%
While these overall expenses are higher compared to other areas of the United States, California has a higher average salary, so it balances out.
Family Budget Calculator For Monterey, CA – Is Monterey Affordable?
According to the Economic Policy Institute, the average family of four needs to make $114,198 per year to live comfortably in Monterey County, CA.
Based on the estimate of having two kids and two adults in the household, here is an average of what you can expect to spend each month:
Housing: $1,793
Food: $859
Child Care: $1,268
Transportation: $1,328
Health Care: $1,979
Other Necessities: $961
Taxes: $1,329
Cost of Household Items, Food, Gas & Groceries in Monterey
Food is often one of the most expensive categories. To help you prepare before moving, we wanted to share some specific examples of median prices you can expect to pay for popular household items and expenses.
Monterey Average Grocery Costs
Groceries are a necessity for everyone. Numbeo gives you a closer look at the average cost of food in Monterey, CA.
Meal, Inexpensive Restaurant: $25.00
Beef Round (1 lb): $10.00
Chicken Filets (1 lb): $10.00
1 Gallon of Milk: $4.43
12 Eggs: $3.23
Potatoes (1 lb): $1.50
Apples (1 lb): $2.69
Oranges (1 lb): $2.00
Loaf of Bread: $3.57
Bottle of Wine (Mid-Range): $14.50
Fitness Club (Monthly Fee): $40.40
It's essential to note that everyone has different diets, health needs, and preferences when it comes to food, so make sure to consider these when making your budget.
Average Cost of Monthly Bills in Monterey
According to Doxo, here is the rundown of what you can expect on average to spend for monthly bills. 
Mortgage: $2,377
Auto Loan: $514
Auto Insurance: $165
Average Monterey Utilities: $763
Health Insurance: $122
Cable & Satellite: $200
Phone: $189
When it comes to public transportation in Monterey, CA, you have the option to ride the city bus. There are a couple of different ways you can pay for the bus, and those include: Cash, GoPasses, GoCard, and Courtesy Cards. If you're a student attending CSUMB, Hartnell, or MPC, you have the ability to ride the bus for free. If you drive a car, then the current average price of gasoline is $5.17 on the West Coast, according to the US Energy Information Administration.
While most of the monthly expenses are more expensive than the national average, when you move to Monterey, the cost of auto and health insurance is lower than in other areas in the United States.
Monterey Real Estate Market
From Census.gov, 34.3% of the residents in Monterey, California, own their homes. According to Redfin, real estate is competitive, with homes selling in 36 days once released to the market. If you're interested in purchasing a piece of property, the median home price in Monterey is $982,500. 
A single-family house will cost a median price of $1,055,000.
For a townhouse, you can expect an average cost of $1,359,000.
Depending on your budget and how much room you need, a condo could be a great alternative because the median sale price is $710,000.
If you can't decide whether renting or buying is the best option for you, let's break down the Price-to-Rent ratio.
For example, let's say you're considering buying a condo for $800,000. If the median annual rent costs you $30,000, you will then take the $800,000 divided by $30,000, giving you a 1:27 ratio.
Now, a ratio between 1 to 15 means it will be more beneficial to purchase the property than rent, 16 to 20 means you are usually better off renting a place than buying something, and for anything over 21, you need to be renting. Based on the scenario above, the ratio is 1:27, so you need to be renting.
Living in Monterey, CA, is one of the best decisions you can make. The city is calm, quiet, and peaceful–making it a great place to raise a family. A few top-rated areas in the Monterey Peninsula include: Pebble Beach, Del Monte Forest, Carmel-by-the-Sea, Pacific Grove, and Del Rey Oaks.
Monterey is a family-friendly community and is known for the beautiful wildlife, fresh seafood, and the incredible waterfront views. 
Monterey Rental Market- Average Rent in Monterey
The average rent in Monterey, CA, is $2,374 for a 786 square foot apartment. While this price is higher than the national average by $746 per month, it's still affordable and fits into most household budgets.
An example of one of the most popular apartment complexes is Los Arboles Apartment Homes. It offers a luxury style living with everything you need without breaking the bank. They are one block from the beach and they offer a dog park, free internet, fitness center, spa, swimming pool, gated access, beautiful landscaping, assigned parking, and picnic area with BBQ.

Now, if you're curious about the price compared to the next largest city, Salinas, Monterey is $229 more expensive per month.
If you're not sure about whether or not you should rent or buy during this current period of time, ATTOM has created a Rental Affordability Report that allows you to learn more about the area you're interested in investing in and how the current real estate market is performing in that particular area.
When it comes to how much you need to earn to afford the rent in Monterey, here is a breakdown of what you'll need to make based on the zip code 93940 without exceeding 30% of your income on housing:
Hourly Wage For A Two-Bedroom: $45.77
Hourly Wage For A One-Bedroom: $37.50
Median Household Income: $80,908
While it might feel like a good idea to get a luxury apartment that's out of your price range, you must try to keep your rent at no more than 30% of your take-home pay per month. When you do this, it allows you to have the flexibility to afford any unexpected expenses like medical bills.
Average Salary & Household Income in Monterey
The average annual salary in Monterey, California, is $75,000 and $22.86 an hour.
Some of the jobs in Monterey and their average salary include:
Executive Director: $83,810
Software Engineer: $100,454
Director of Operations: $90,000
Senior Graphic Designer: $65,000
Accounting Manager: $91,272
According to the U.S. Bureau of Labor Statistics, some of the most popular occupations are in industries like:
Management: average hourly wage is $56.28
Business and Financial: average hourly wage is $38.73
Computer and Mathematics: average hourly wage is $47.41
Architecture and Engineering: average hourly wage is $44.33
These wages are well above California's hourly wage of $14.00.
Income, Sales & Property Taxes in Monterey
The income tax rate for California is different based on your income amount. It can range between 1%-12.3%. The total sales tax rate for California is 7.25%, but the rates can be higher based on the county and the city.
Sales Tax For California State: 7.25%
Sales Tax For County: 0.25%
Sales Tax For Monterey: 9.25%
California is #9 out of 50 compared to the rest of the United States, where it ranks based on the sales tax rate.
When it comes to property taxes in Monterey, it's part of Monterey County, and the average property tax rate is 0.75% of the assessed value.
Monterey vs Salinas Cost of Living
Are you trying to decide between moving to and living in Monterey or Salinas? Here is a Monterey cost of living vs. Salinas, CA.
| | | |
| --- | --- | --- |
| | Monterey | Salinas |
| Median sale price | $982,500 | $661,500 |
| Average rent | $2,374 | $2,145 |
| Price-to-rent ratio | 1:27 | 1:26 |
| Average salary | $75,000 | $71,000 |
| Property Tax | Average of property tax rate is 0.75% | 1% of assessed valuation |
The average salary is higher in Monterey, and the rent is only $229 more expensive, so it balances out.
Are you thinking about moving to Monterey, California? It's a great place for everyone, whether you're starting out on your own, if you're married with kids, or retired. With the gorgeous views, the best beaches, and being a family-friendly city, then Monterey is the perfect place for you! Southbay Moving is a top-rated team of professional movers that will make your relocation seamless. Call our Monterey movers at (831) 786-5537 for a free estimate!