Moving anywhere is a big step, and while it can be an exciting period in your life, it is important to know how much your move will cost so you can create a moving budget. When you move to Fresno, whether it is because you got a new job, found a beautiful home to live in, or something else, you want to know the cost of movers in Fresno. 
We are here to make your moving process go smoothly and stress-free so you can focus on the important things, like the specific details of your move. Why bother moving everything on your own when our courteous movers can help you do it? 
Before you begin the moving process, you will want to calculate the moving costs in Fresno. In this article, we will help you learn all about the moving costs associated with making a local move in Fresno. 
Factors That Affect Your Moving Costs in Fresno
When looking at Fresno movers rates, many factors determine a moving company's prices. For local moves, you will be looking at full-service who charge hourly. Since you will be working with hourly movers in Fresno, it is important to know what affects the time it takes them to complete a move. 
Below are the main factors that go into how long it will take for the moving service to complete your move and how much you should expect moving quotes in Fresno to be.  
Supplies:

Most moving companies offer the choice to have their professional movers pack your belongings up, but you will have to pay for the materials used, like packing tape, boxes, and bubble wrap. 

Volume of Your goods:

If you have many belongings, it will take the movers longer to move them from your old home to the new one. 



Packing:

If you decide to have the movers pack for you, you will have to pay for the time it takes them to perform the packing. Most moving companies offer you a full pack or partial pack and also unpacking.



Distance of the move:

The further it is between your old home and your new home, the longer it will take for the moving truck to get there, and that is additional time you have to pay for. Traffic can affect how long it takes for the moving truck to get somewhere, and they go as fast as a regular car.



Elevator/Stairs:

The move will take longer to complete if the movers have to go up and down elevators or stairs.



Special requests/items:

Antiques and large objects like pianos take longer to move and often require special equipment to move them out of and into homes.



Access:

If movers have to park farther away from your home, it will take longer to complete. Thus, it is important to ensure the movers have easy access to your home. 



Furniture disassembly/assembly:

If the movers have to dissemble or assemble furniture, it will take them longer to complete the move, increasing the final price. 
Full-Service Movers vs. DIY Moving in Fresno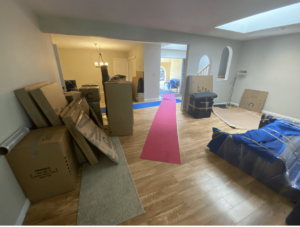 While you can perform moves independently, hiring a full-service moving company in Fresno can make a move much smoother. If you do the move yourself, you must get the truck, organize a group of people to help you out, pack everything, unpack, etc. So instead, check out the below reason why a moving company can help! 
Save Time:

By hiring trained movers, you can save a lot of time on the move, as they have the necessary equipment to make the process go efficiently.



Expertise Provided by Movers:

Moving companies provide experienced movers who can perform a move better than you could.



Storage:

Sometimes, you just need temporary storage while moving, and most companies provide storage services during moves.



Safety:

Moving requires a lot of physical activity and carrying heavy items, which can be dangerous when not done properly. Movers lift heavy items for a living and can thus spare you from being injured and throwing out a back or knee.



Protecting Your Home and Furniture:

Moving services in Fresno provide special equipment that helps protect your home and furniture so your fragile belongings are not broken during transit.



DIY Doesn't Necessarily Save Money:

While you may think you could save money by completing the move on your own, that is not often the case. There are normally hidden costs in DIY moves. You will have to rent a truck, pay for pizza to convince your friends to help out, or rent moving equipment, to name a few.



Movers Provide Packing Services and Materials:

If you do not risk an improper packing job damaging your belongings, movers provide packing services and materials that keep everything safe and damage-free. 
Average Moving Costs in Fresno| City Moving Estimates
Regarding the average moving costs in Fresno, it depends entirely on the hourly moving rates of the company you choose and the variables listed above, like the number of belongings and distance between the old home and the new one.
When working with a dependable moving company in Fresno, they will provide you with their moving hourly rate. You can trust the moving company to help determine the number of movers necessary for your move. 
You can also use a moving cost calculator online to help you figure out the total cost based on Fresno's moving rates. 
Below you can find the average time it will take when moving apartments in Fresno, which will help you figure out your moving costs estimate. 
Cost to Move a 1 Bedroom Apt in Fresno
You will typically require two movers, and it will take between 3 – 6 hours to complete the move. Multiply the hours required by the hourly rate given to you by the movers, and that is how much it will cost. 
Cost to Move a 2 Bedroom Apt in Fresno
A 2 bedroom apartment in Fresno typically requires three movers and takes between 3 – 6 hours for the move to complete. To figure out how much it will cost, multiply the hourly moving company rate by the required hours, which will be your total cost. 
Cost to Move a Home in Fresno
Moving a full home in Fresno will require 3 to 4 movers and take between 4 – 7 hours on average. Multiply the hourly rate by the number of hours necessary to complete the move, which is your final cost. 
In each of these cases, you will want to call the moving company for a cost estimate, giving you a general idea of what to expect. 
Tips to Make Your City Relocation More Affordable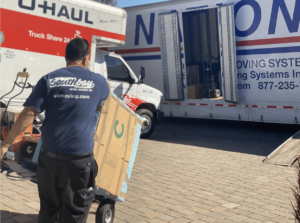 Saving money is always great, and you are probably wondering, "how can I reduce the cost of moving in Fresno?" You can do several things to reduce your moving costs in Fresno, and we have a great checklist to help you with this! 
Make sure you have everything necessary approved by your landlord, HOA, etc. before the movers arrive. That way, you do not have to worry about postponing your move due to necessary approval.




To save time, tell the movers where everything needs to go in the new home and provide efficient, direct instructions.




Have snacks and drinks available for the hard-working movers to stay energized and move everything quicker.




If you do not need something, get rid of it. You will save money and time by removing unneeded belongings from your home.




Pack and unpack your boxes, and make sure everything is labeled correctly.




Disassemble and assemble the furniture yourself, as it will take movers some time to do this if they have to do it themselves.
How To Choose a Fresno Moving Company
When choosing your Fresno moving company, keep the following in mind.
Is the company insured and certified?

Do they have good Yelp and Google reviews?

How long have they been in business? 

Are there any claims made against them? 

How many moves have they completed?

Do they have proper moving equipment?

Are their customer service representatives friendly and helpful?

Are your needs met?
South Bay Moving Systems is insured and certified, with over 30 years of experience and 1200 happy customers served. 
Additional Fresno Moving Tips
How Much Should you Tip Movers in Fresno?
Typically when tipping movers in Fresno, you should tip either $25 or around 18 – 20% of the total cost of the move, which the entire moving crew can then split amongst themselves. 
Ultimate Fresno Moving Checklist
To help you with your Fresno move, we've made an  ultimate Fresno moving checklist. It will provide you with all the steps you should take to enjoy a stress-free and enjoyable move. 
Fresno Utilities
Setting up utilities in your new home can be stressful. To help, we created an ultimate Fresno Utility guide, so everything is ready when you move in!
Professional local movers in Fresno can make moving a stress-free experience. South Bay Moving Systems is here for you, and we know you are excited to relocate to your new home so call us at 831-786-5537 for a city moving quote so we can help you!