Whether you're visiting the San Joaquin Valley or thinking about moving to Fresno, crime in Fresno is probably a big concern. Like most cities in California, Fresno crime is higher than the national average. However, don't be intimidated by the Fresno crime rate: the city actually has far less violent crime than many cities of a similar size like Atlanta, Nashville, and Washington DC!
This complete guide to the Fresno CA crime rate covers everything from violent crime, homicides, shootings, and gangs in Fresno to property crime, dangerous areas, and the safest places to live.
Understanding the Fresno Crime Rate
City crime rates are based on FBI crime data collected by law enforcement agencies. Most Fresno crime rates you'll see are based on the FBI's Uniform Crime Reporting (UCR) program. The UCR program generates statistics on crime using data submitted by more than 18,000 city, county, state, college and university, tribal, and federal law enforcement agencies.
In 2021, the UCR was phased out in favor of the more comprehensive National Incident Based Reporting Systems (NIBRS) which classifies over 20 indexed crimes instead of just eight UCR index crimes.
You can see new UCR data is released on the FBI's interactive Crime Data Explorer. Historical crime data through 2019 is available on UCR Publications.
The Fresno crime rate can be helpful to understand your risk of being the victim of crime and compare that risk to other cities, but remember the FBI discourages using crime rates for comparisons. That's because crime rates don't tell the whole story:
A crime rate can be misleading and applies to an entire city
Not all offenses are included in crime rates like drug crimes
Unique factors like the city's crime reporting practices and the accuracy of the agency's reports can make a city seem safer or more dangerous
Many crimes are not reported to police
Some crimes are very targeted and do not indicate your risk of being the victim of crime
Context is necessary to understand Fresno crime statistics
Fresno Crime Map
Fresno crime rates have many limitations. A city crime rate doesn't tell the whole story as a large share of crime can be concentrated in a single neighborhood. One of the best ways to understand Fresno CA crime and your risk is by checking a Fresno CA crime map. This lets you see crime hotspots and safe areas of the city.
Fresno Crime Report & Community Resources
Fresno PD maintains crime statistics and reports. The Annual Fresno Police Report documents the previous year's efforts toward crime reduction, community outreach, and traffic control with response times, arrest statistics, crime rates, and more.
Here are additional Fresno crime statistics and resources:
What Is the Crime Rate in Fresno California?
The Fresno CA crime rate is:
3,742 crimes per 100,000
655 violent crimes per 100,000
3,077 property crimes per 100,000
By comparison, the California crime rate is 2,581 total crimes per 100,000.
The national crime rate is:
2,346 crimes per 100,000
442 violent crimes per 100,000
1,958 property crimes per 100,000
Even though Fresno crime is higher than average, it's still a safe place to live! Remember the limitations of crime rates and the fact that most violent crime in Fresno involves gang violence in specific areas or domestic violence.
Fresno California Crime Rate Comparison
How does crime in Fresno California compare to other major cities? The Fresno crime rate is high, but it's far from the most dangerous city in the United States or even California. Here are violent crime rates in major California cities and U.S. cities of similar size to put Fresno crime into perspective.
Stockton, CA: 1,414 violent crimes per 100k (8th highest violent crime rate in the U.S.)
Oakland, CA: 1,299 violent crimes per 100k
San Bernardino, CA: 1,291 violent crimes per 100k
Nashville, TN: 1,138 violent crimes per 100k
Washington, DC: 949 violent crimes per 100k
Atlanta, GA: 935 violent crimes per 100k
Los Angeles, CA: 761 violent crimes per 100k
Tucson, AZ: 775 violent crimes per 100k
Fresno, CA: 655 violent crimes per 100k
Louisville, KY: 647 violent crimes per 100k
Portland, OR: 516 violent crimes per 100k
Violent Crime in Fresno CA
The Fresno violent crime rate is 665 violent crimes per 100,000 (2020). That's 71% higher than the national average. You have a 1 in 151 chance of being the victim of violent crime in Fresno.
The 2021 annual Fresno police report showed the following violent crimes reported to police:
Homicides: 74
Shootings: 688 (down 6% from 2020)
Aggravated assault: 1,857 (up 7% from 2020)
Robbery: 905 (up 2% from 2020)
Rape: 216 (up 13% from 2020)
The Fresno murder rate is 14.4 per 100,000. That's more than double the U.S. murder rate of 6.5 and the California homicide rate of 5.6 murders per 100,000 people.
According to the Fresno Police Department, there were 74 homicides in Fresno in 2021, the same number as the year before and up significantly from recent years. This included six double homicides. 45 of the 74 homicides were gang related. Fresno police had a 73% clearance rate for 2021 homicides.
There were 87 homicides in Fresno County in 2021 out of 2,361 statewide California homicides. The county had a homicide rate of 8.6 murders per 100,000 people compared to 6 per 100,000 for California.
Fresno PD reported 688 shootings in Fresno in 2021, down from 732 in 2020 but still historically high with 374 Fresno shootings in 2019. 106 shootings were solved with 99 firearms recovered and 140 arrests related to felony assaults.
The police department's Domestic Violence Unit investigated nearly 6,100 domestic violence cases in Fresno in 2021.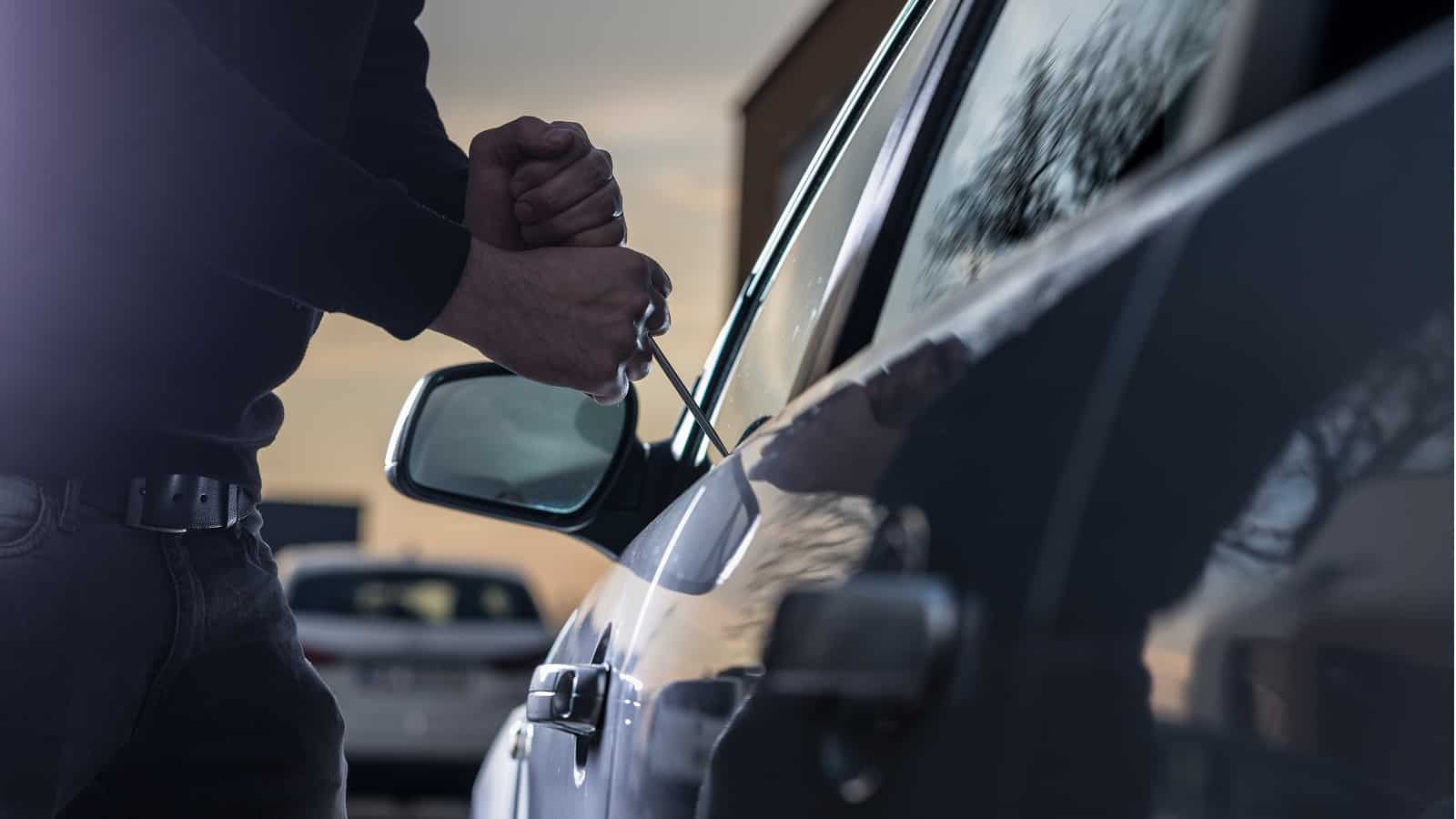 Property Crime in Fresno CA
The Fresno property crime rate is 3,077 property crimes per 100,000. In their 2021 annual report, Fresno police reported the following property crime statistics for Fresno:
Burglary: 1,520 (down 51% from 2020)
Theft/larceny: 11,399 (up 10% from 2020)
Vehicle burglary: 4,247 (up 39% from 2020)
Car theft: 3,172
Auto theft is one of the biggest property crime issues in Fresno. Motor vehicle theft is on the rise across the country and Fresno has one of the highest car theft rates in the U.S. In 2020, the Fresno vehicle theft rate was 409 per 100,000 people compared to the national average of 246 per 100,000. Fresno ranks 27th in the country for car theft while Bakersfield is the worst city for car theft with 839 vehicle thefts per 100,000 people.
Dangerous Areas of Fresno
Three Fresno neighborhoods stand out for very high crime rates. Central or Downtown Fresno is the main hotspot of crime in Fresno, typical of large cities. Fresno gang violence is the biggest concern with gangs like the Bulldog gang operating mostly in Southeast Fresno and West Fresno.
The most dangerous parts of Fresno are:
Central (pop. 14,000) has 241% more violent crime than the Fresno average with 2,270 violent crimes per 100,000 people
Edison (pop. 25,600) has 77% more violent crime than the city average with a violent crime rate of 1,175 per 100,000
Fresno-High (pop. 56,800) has 63% more violent crime than the Fresno average with 1,084 violent crimes per 100,000
View this post on Instagram
Safest Neighborhoods in Fresno CA
The north and east areas of Fresno are generally the safest. You'll find many safe Fresno neighborhoods with very low crime, good schools, and fantastic amenities. Here are some of the safest areas of Fresno, California.
South Growth Area (pop. 3,900) has 99% less crime than Fresno with just 48 crimes per 100k!
North Growth Area (pop. 2,300) has 60% less crime than the city average and only 1,497 crimes per 100k
Woodward Park (pop. 58,800) is the safest large neighborhood in the city with 48% less crime than the Fresno average and 1,934 crimes per 100k
Southeast Growth Area (pop. 6,700) has 41% less crime than the city overall and a total crime rate of 2,196 crimes per 100k
West Fresno (pop. 53,900) has 31% less crime than the overall city and 2,591 crimes per 100k
Bullard (pop. 100,000) is one of the largest and safest neighborhoods in Fresno with 18% less crime than the city average
Roosevelt (pop. 128,400) is another safe place to live in Fresno with 16% less crime than the city and 3,132 crimes per 100k
View this post on Instagram
Campus Crime
Fresno is home to California State University, Fresno, one of 23 campuses in the CSU system with about 25,000 enrolled students. The CSU Fresno campus is protected by the Fresno State Police Department.
In 2019, Fresno State had 77 reported incidents with 3.17 incidents per 1,000 students. These incidents included 36 arrests for major crimes, 24 arrests for drug possession, and 7 arrests for violence against women. There were only 1.93 incidents per 1,000 students that occurred on the Fresno State University campus.
You can see Fresno State campus crime statistics here. The most common crimes include burglary, motor vehicle theft, domestic violence, and drug violations.
Fresno Police Department
Chief of Police: Paco Balderrama
Sworn officers: 776 sworn officers (308 civilian staff)
Fresno Police non emergency number: (559) 621-2000
The Fresno Police Department serves 530,000 residents of Fresno, California with almost 800 sworn officers and nearly 300 support staff. FPD has five field operations divisions and 11 specialized divisions including a K9 Unit, Mounted Patrol Unit, Violence Intervention & Community Engagement Unit (VICS), SWAT, and a Street Violence Unit that responds to violent crimes.
The Multi-Agency Gang Enforcement Consortium (MAGEC) targets street gangs with collaborative teams made up of Fresno Police Department, California Highway Patrol, Fresno County Sheriff's Department, Division of Adult Parole Operations, Fresno County District Attorney's Office, and other local police departments. In 2021, M.A.G.E.C. Metro seized 301 guns and made 521 felony arrests. In 2022, MAGEC executed a multiagency gang takedown operation that was one of the largest in state history with 25 swat teams and 200 law enforcement personnel that links 6 homicides, 35 shootings, and 80 crimes.
Don't be intimidated by the seemingly high Fresno CA crime rate. As you can see, there are many safe places to live in Fresno and its crime rate is comparable to other large cities – and even safer than many!
If you're planning to relocate within the Fresno area, give us a call at Southbay Moving Systems for a free, personalized moving estimate from our 5-star Fresno movers. We look forward to having you settled into your new neighborhood without the stress!