If you're considering moving to the Fresno metro, you'll find lots of exciting and interesting things to do in the area. Fresno is in the beautiful San Joaquin Valley and is the county seat of Fresno County. It's also the largest city in the greater Central Valley region. With a population of 542,107 and a Metro population of 1,008,654, Fresno is the 5th most populous city in the state. 
Fresno was founded in 1872 and incorporated in 1885. If you're an outdoors enthusiast, Yosemite National Park is about 60 miles north of Fresno, and Kings Canyon National Park is 60 miles east. Sequoia National Park is also close by, only 75 miles to the southeast. With 50.5% of its population registered as Hispanic, Fresno is the third-largest majority-Hispanic city in the United States.
Fresno is a center of culture, the arts, and music. The Artists' Repertory Theatre, the Fresno Philharmonic, and the Woodward Shakespeare Festival are just a few highlights of Fresno's performing arts. Fresno is home to world-class museums, including the Fresno Art Museum and the Meux Home Museum. The Fresno Chaffee Zoo houses over 190 species and includes Stingray Bay, Dino Dig, Sea Lion Cove, and African Adventure. 
If you like cultural events, Fresno has plenty for you. The Big Fresno Fair was founded in 1884 and is held every year in October. Enjoy museums, a carnival, concerts, food, a marketplace, and more. Ani-Me Con is the largest annual anime/gaming convention in the Central Valley.
California State University is the main institution of higher learning in Fresno. The University of California, Merced's Fresno Center is located there, as is the University of California, San Francisco Fresno Medical Education Program. If you want to be in the metro but don't want to live in the city, don't worry! There are plenty of amazing nearest cities to Fresno, and here they are.
Largest Cities Near Fresno, CA
Within 25 miles, 4 cities around Fresno, CA have a population of about 10,000 people or more. Each city is unique, with outdoor activities, recreation, and interesting things to see and do. Here are the largest cities within Fresno, CA, listed from largest to smallest.
Clovis, CA – 9.3 miles from Fresno
Population – 122,989
County – Fresno
Clovis began as a railroad stop in 1890 and was incorporated in 1912. Located in the northeast section of the Fresno-Clovis Metropolitan Area, Clovis is known as the "Gateway to the Sierra." The population has more than doubled since 1985 in this agriculturally-rich city, yet Clovis maintains its small-town spirit. Annual events in Clovis include Rodeo Days, where they've been celebrating rodeo for over 100 years. Big Hat Days is the largest two-day festival in Central California, with over 140,000 visitors. The event features hundreds of craft and food booths. Clovisfest is held every year at the Clovis rodeo grounds, where you can watch hot air balloons drift up into the air right after sunrise. The event covers 12 blocks and features over 200 craft and commercial booths, live music and performances, the International Village, a beer garden, and plenty of tasty food booths.
Find out more about why Clovis is a great place to live.
Sanger, CA – 16.2 miles from Fresno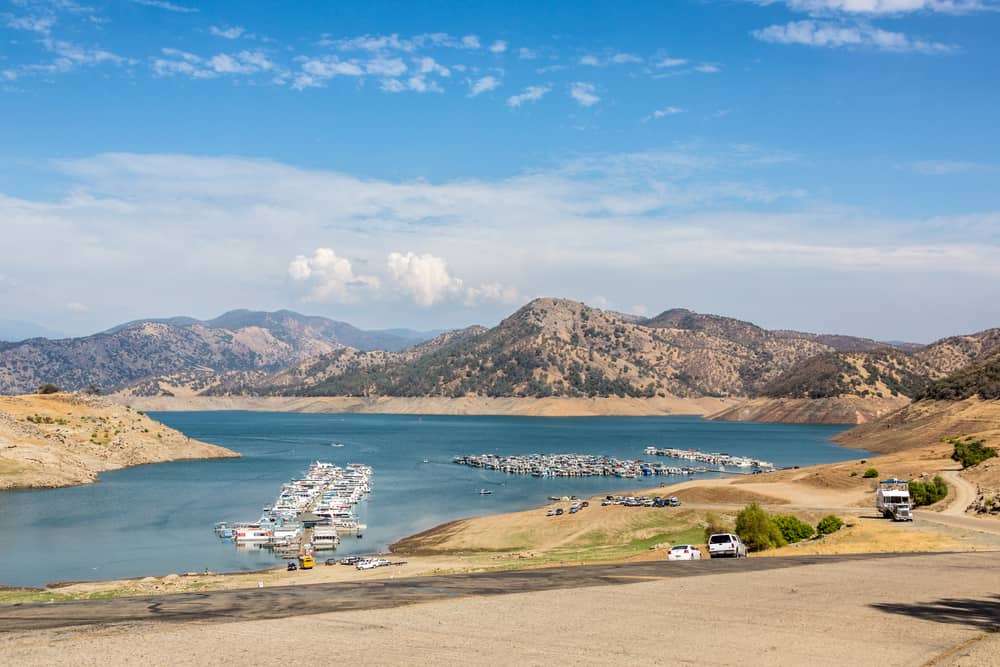 Population – 26,716
County – Fresno
Sanger is known as the "Nation's Christmas Tree City." Ironically, the tree it was named for, General Grant in Kings Canyon National Park, is actually a sequoia, one of the oldest and tallest giant sequoias in the world. Among the attractions in Sanger is the Sanger Depot Museum. The depot was built in 1887 and today is the oldest building in Sanger. Maréchal Vineyards is an award-winning winery where you can enjoy wine tasting with a picnic lunch with scenic views of the vineyard and the stunning Sierra Foothills. Head over to the Blossom Trail Fruit Stand for a taste of the area's locally grown produce, including farm-fresh peaches, plums, nectarines, apricots, dried fruit, and nuts.
Reedley, CA – 24.4 miles from Fresno
Population – 25,232
County – Fresno
Reedley is a quick, 33-minute drive southeast of Fresno. The city of Reedley has a total area of 5.49 square miles. The Jansen Opera House in Reedley was built in 1903 and is the cultural hub of the city. The opera house produces musicals and stage plays year-round. The Hillcrest Christmas Tree Farm is the oldest in the San Joaquin Valley. Choose your own Christmas tree from the selection of Balsam Firs, White Spruces, Norway Spruces, or Scotch Pines. Hillcrest also has a pumpkin patch, corn maze, games, a giant tree house for kids to play in, swings, a hiking/walking path thru a wooded area, train rides, and much more. At the Reedley Museum, see artifacts that preserve and promote the rich history of the Reedley district. Collections include Yokuts American Indian artifacts, exhibits depicting life at the turn of the century in Southern Fresno County, and antique farm equipment.
Selma, CA – 16 miles from Fresno
Population – 24,625
County – Fresno
About 16 miles southeast, you'll find towns in Fresno like the city of Selma. The city was incorporated in 1893 and has a total area of 5.77 square miles. Selma is known as the "Raisin Capital of the World" as 90 percent of the raisins produced in the U.S. are grown within eight miles of Selma. The Selma Raisin Festival has been an annual event in Selma for 42 years. The festival includes a carnival, entertainment, and lots of food booths. In October, don't miss the Selma Marching Band Festival and Parade. The largest community event in Selma, the festival attracts musicians and music fans come from all over Central California. The city has several community parks to enjoy outdoor activities as well as youth, adult, and senior enrichment programs.  Brentlinger Park features ball fields, playground equipment, picnic shelters, basketball courts, tennis courts, and pickleball. Peter Ringo park has lighted soccer fields, basketball courts, playground equipment, and park shelters.
Other Cities near Fresno, CA
There are many great towns around Fresno. Fresno County has 4 cities in Fresno within a 35 miles radius of Fresno with a population between 10,000 and 20,000 residents. Kerman features the M. Young Botanic Garden which spans 2.5 acres and contains Southwestern native trees, shrubs, and 12 different gardens. The garden has paths, arbors, patios, and seating areas. Parlier produces grapes, raisins, and tree fruit, and you'll find plenty of recreational activities, such as fishing, hunting, boating, camping, and hiking along the nearby Kings River. Kingsburg was once the headquarters of Sun-Maid Growers of California (now headquartered in Fresno), a major producer of raisins and other dried fruits. Kingsburg is home to the largest box of raisins in the world, built by students at California State University, Fresno. Orange Cove is home to the annual spring Fresno County Blossom Trail event that kicks off the agricultural growing season.
Cities Near Fresno (10,000 to 20,000 population)
| | | | |
| --- | --- | --- | --- |
| | County | Population (2020) | Distance from Fresno |
| Kerman | Fresno | 16.027 | 17 miles |
| Parlier | Fresno | 14,594 | 15 miles |
| Kingsburg | Fresno | 12,390 | 21 miles |
| Orange Cove | Fresno | 9,662 | 34 miles |
Map of Cities Near Fresno and Surrounding Area
Small Cities & Towns Near Fresno, CA
Within 30 miles, you'll find 6 towns close to Fresno with populations of under 10,000 people within a small commute from Fresno. Fresno County has some of the richest and most fertile agricultural farmland in the Central Valley. The cities and small towns listed below all help make Fresno County the number one agricultural-producing county in the nation. Besides producing most of the raisins in the U.S., the county also grows over 1 billion dollars worth of almonds every year, the county's number one crop.
Cities and Towns Near Fresno (less than 10,000 population)
| | | | |
| --- | --- | --- | --- |
| | County | Population (2020) | Distance from Fresno |
| San Joaquin | Fresno | 3,706 | 30 miles |
| Calwa | Fresno | 2.363 | 5 miles |
| Easton | Fresno | 2,224 | 10 miles |
| Del Rey | Fresno | 1,639 | 19 miles |
| Biola | Fresno | 1,440 | 21 miles |
| Raison City | Fresno | 377 | 15 miles |
Major Cities Near Fresno, CA
Fresno is by far the largest city in Fresno County and the surrounding area, but its central location in the state makes it accessible to many other major cities in California that are only a day trip away when you're in the area. Or you could plan a weekend getaway to one of these cities while in Fresno. Some of the closest major cities to Fresno are no more than a few hour's drive away, while others are a little farther but still worth checking out. Here are the major cities close to Fresno CA.
 Major Cities Near Fresno, CA
| | | |
| --- | --- | --- |
| | Population | Distance from Fresno |
| Modesto, CA | 218,771 | 90.7 miles |
| Bakersfield, CA | 407,615 | 103.9 miles |
| Stockton, CA | 322,120 | 117.6 miles |
| San Jose, CA | 983,489 | 121.8 miles |
| Fremont, CA | 227,514 | 133.2 miles |
| Oakland, CA | 433,823 | 151 miles |
| Sacramento, CA | 525,041 | 156.8 miles |
| San Francisco, CA | 815,201 | 161.1 miles |
| Reno, NV | 264,165 | 192.4 miles |
| Los Angeles, CA | 3,849,297 | 205.2 miles |
| Long Beach, CA | 456,062 | 223.8 miles |
| Anaheim, CA | 345,940 | 226.8 miles |
| San Bernardino, CA | 222,203 | 228.3 miles |
| Santa Ana, CA | 309,441 | 233.6 miles |
| Riverside, CA | 317,261 | 235.3 miles |
| Irvine, CA | 309,031 | 240.2 miles |
| Las Vegas, NV | 641,903 | 260.1 miles |
| North Las Vegas, NV | 262,527 | 261.5 miles |
| Paradise, NV | 193,150 | 262.2 miles |
| Sunrise Manor, NV | 196,411 | 266 miles |
| Henderson, NV | 317,610 | 267.1 miles |
| San Diego, CA | 1,381,611 | 315.3 miles |
| Chula Vista, CA | 277,220 | 321.9 miles |
| Tijuana, Mexico | 2,626,333 | 330.6 miles |
| Ensenada, Mexico | 443,807 | 382.9 miles |
Fresno, CA Area Cities FAQs
What are the closest cities to Fresno, CA?
The closest city to Fresno, CA is Clovis, CA, which is only 9 miles to the northwest. Selma, CA, Sanger, Ca, and Parlier, CA, are about 15-16 miles away.
What major cities are near Fresno, CA?
The two major cities near Fresno, CA, are Modesto, CA (91 mi), and Bakersfield, CA (104 mi). Both cities are less than two hours away by car.
What cities (or towns) are 1 hour from Fresno, CA?
Pixley, CA (1 hour), Corcoran, CA (58 minutes), Merced, CA (57 minutes), Kettleman City, CA (57 minutes, Huron, CA (57 minutes), Exeter, CA (54 minutes), Oakhurst, CA (54 minutes), North Fork, CA (51 minutes), Farmersville, CA (51 minutes) are all Fresno surrounding cities within an hour.
What cities (or towns) are 30 minutes from Fresno, CA?
There are a number of cities and towns within a 30-minute drive of Fresno, CA, including London, CA, Dinuba, CA, Traver, CA, Reedley, CA, Madera, CA, Laton, CA, Gravesboro, CA, Wahtoke, CA, Kingsburg, CA, Parlier, CA, and Miley, CA.
Fresno is a beautiful city, centrally located in the state of California, that has many things for you to see and do. The surrounding cities of Fresno are just 30 minutes or less away by car, where you can find local restaurants, arts, culture, and lots of outdoor activities for you and your family.
One benefit of moving to Fresno is that you'll have lots of different places in the area to explore. If you are planning to move to Fresno or one of the many towns or cities surrounding it, give us the best Fresno moving company a call or fill out our online form for a free moving quote from our experienced, 5-star movers!