Are you visiting the San Joaquin Valley or thinking about making this beautiful Central California region your home? Largely a rural, agricultural area, there are several population centers throughout the valley. Fresno County is part of the Madera AVA wine region and a popular destination for tourists exploring California's wine country but there's much more to see and do in the area!
Here's a look at the largest cities in Fresno County and other towns and regions to explore. If you're going to stay in the Fresno area, you can also check out our guide to cities near Fresno!
About Fresno County CA
The 10th largest county in California by population, Fresno County is the 6th largest by area. Its name means "ash tree" in Spanish; it was named for two trees growing by the town of Minkler. Fresno County is part of the California Central Valley region known for its agriculture and more specifically the San Joaquin Valley in the southern half of the Central Valley.
Like most of the Central Valley, Fresno County is largely rural outside of Fresno and Clovis. The region has been a farming and agricultural center since the mid-19th century with everything from sheep and cattle ranches to grain, cotton, wine, and raisin crops dominating the early economy. Fresno County is America's top agricultural county with over 300 crops grown here. Major livestock and crops include plums, peaches, nectarines, grapes, almonds, tomatoes, cattle, and turkeys.
The discovery of oil dramatically changed the region at the start of the 20th century. The Coalinga Oil Field, Fresno County's largest oil field, became the most productive field in California by 1910. An oil gusher that decade, the largest in the state at the time, was so eventful that the LA Stock Exchange shut down for the day so members could take the train to Fresno County to see it. The Coalinga field is today the 8th largest oil field in the state with more than 1,600 active wells.
Fresno County Demographics
Fresno County area: 5,958 square miles
Fresno County population: 1,008,654
Population density: 169 people per square mile
Median household income: $61,276
Median home price: $418,000
Educational attainment: 78% high school graduate or higher, 23% bachelor's degree or higher
Largest Cities in Fresno County
Of the 15 Fresno cities and dozens of other unincorporated communities in Fresno County, only two have more than 30,000 residents and just 10 have at least 10,000 people. Here are the ten largest cities in Fresno County – and what each has to offer as a visitor or new resident.
#1. Fresno
Population: 542,107
Median household income: $57,211
Median home price: $390,000
Fresno is the 5th largest city in California and the largest city in the eight-county San Joaquin Valley region. This large, diverse city in the heart of California's agricultural center offers everything from sophisticated cultural attractions and bustling urban communities – all surrounded by gardens, parks, and fruit trees.
Not sure if Fresno is right for you? Check out our complete guide to living in Fresno to learn more about this beautiful city!
#2. Clovis
Population: 120,124
Median household income: $89,769
Median home price: $477,500
Clovis is one of just two Fresno cities with more than 30,000 people. It's also one of the best cities in Fresno County for families and seniors alike. With a great quality of life, fantastic amenities, diverse economy, and plenty of community events, it's easy to see why the Clovis population has grown almost 26% in the past decade!
Clovis is known as the Gateway to the Sierras as it's at the foot of the Sierra Nevada Mountains and the traditional gateway to the Sequoia, Kings Canyon, and Yosemite National Parks. The city continues to celebrate its history as an American frontier town with its famous Clovis Rodeo held every year with over 550 cowboys and more than 50,000 attendees.
This large city near Fresno is just 6 miles from downtown Fresno yet boasts a completely different culture and atmosphere. While living in Clovis, you'll enjoy free Clovis Transit rides and great amenities like the highly rated Clovis Senior Center. Loma Vista is one of the top places to live in the city. This master planned community will eventually be home to nearly 30,000 people with a walkable, urban landscape, bicycle paths, and amenities like Village Green, a 7-acre park under development as a community gathering spot.
View this post on Instagram
#3. Sanger
Population: 26,617
Median household income: $59,650
Median home price: $330,000
Sanger was founded as a small railroad town and center for shipping lumber, grain, and citrus. The Sanger Depot Museum is the site of the former Sanger Railroad Depot and chronicles the history of Sanger, dubbed in the 20th century as the Nation's Christmas Tree City. Today, Sanger is a mostly agricultural and residential suburb of Fresno. It's just 16 miles east of Fresno with all the big-city amenities easily within reach while offering a family-friendly, small-town environment families can appreciate. The Sanger Unified School District has highly rated schools like Sanger High School which is ranked 15th in the Fresno metro area and has a 97% graduation rate.
#4. Reedley
Population: 25,227
Median household income: $55,498
Median home price: $413,000
Known as the World's Fruit Basket thanks to its vegetable and fruit production, Reedley is one of many Fresno cities with an agriculture-based economy. It's located on the Kings River and known for its festivals like the Reedley Fiesta and its diversity. This Hispanic-majority city has 25 churches for different Christian denominations like Mennonite, Baptist, and Armenian as well as a Buddhist temple. The Reedley area is one of a handful of regions in California with a Mennonite community.
Reedley Beach is one of the city's top attractions for riverside picnics, swimming, kayaking, and floating. The city is also home to Reedley College, a local community college, and several private schools like Immanuel Schools, a Mennonite K-12 school.
#5. Selma
Population: 24,674
Median household income: $47,644
Median home price: $328,000
Selma is one of just five cities in Fresno County with more than 20,000 residents. Located about 16 miles southeast of Fresno, Selma is next to Kingsburg and Fowler and it's a major agricultural center. In the first half of the 20th century, Selma was known as the Home of the Peach; Libby's, the local peach cannery, was the main employer. Today, Selma is the Raisin Capital of the World with 90% of America's raisins produced within just eight miles of the city. The largest beef producer in America, Harris Ranch, is also based in Selma.
#6. Coalinga
Population: 17,590
Median household income: $65,180
Median home price: $252,000
While most cities in Fresno County are agricultural, Coalinga's economy revolves around the Coalinga oil field, Pleasant Valley State Prison (PVSP), and Coalinga State Hospital. Many people living in Coalinga work for Chevron, the prison, the hospital, or in education. West Hills College-Coalinga is the city's public community college with more than 70 degree and certificate programs.
The Coalinga prison houses more than 2,600 inmates, or about 15% of Coalinga's total population. The population has increased more than 31% in the past decade in part because Coalinga is a major employment center in the western half of the county. It's about an hour from Coalinga to Fresno.
Along with job opportunities, Coalinga is known for its popular events like the Horned Toad Derby held every May since 1935 and the WHAMOBASS Balloon Rally, the world's longest consecutively running annual hot air balloon rally. Every year, the New Coalinga Municipal Airport hosts the Northern California Aerobatic contest with about 45 pilots competing in a two-day event.
#7. Kerman
Population: 16,016
Median household income: $50,130
Median home price: $370,500
Kerman is one of the best places to live in Fresno County for families. This small city just 16 miles west of Fresno is located at the intersection of Highways 145 and 180 and known for its good schools, beautiful parks, and small-town environment. Kerman is popular with families with a median age of just 28.5 – well below the median for California (37) and Fresno County (32.6). If you're renting, you'll find many apartments in the city. For buyers, Kerman is home to The Crossings II, a new home community with new construction starting in the low $400s.
#8. Parlier
Population: 14,576
Median household income: $42,818
Median home price: $345,000
This small agricultural community was founded by the Parlier family in the mid-19th century. Today, it's a major center for the production of grapes, raisins, and tree fruits. Parlier has one of California's largest shares of Hispanic and Latino residents at 97% of the population, many of whom are seasonal migrant workers.
#9. Mendota
Population: 12,595
Median household income: $38,360
Median home price: $311,000
Like other Fresno cities, Mendota is an agricultural community. At just 3.4 square miles, Mendota is the Cantaloupe Center of the World. Many jobs in the small city revolve around agriculture with major employers like Ruby Fresh, Stamoules Produce, and Cardella Ranch and Winery producing pomegranates, cantaloupe, broccoli, mini watermelon, broccoli, wine, and more. Just 34 miles west of Fresno, Mendota is also home to the Mendota Federal Correctional Institution which employs about 350 people.
#10. Kingsburg
Population: 12,380
Median household income: $73,349
Median home price: $527,500
The small city of Kingsburg, CA sits along the Kings River about 5 miles southeast of Selma and 20 miles outside Fresno. Originally a railroad town, Kingsburg quickly became known for its large population of Swedish immigrants and their descendants who made up 94% of the population by the 1920s. It became known as Little Sweden with many shops built in the style of Swedish architecture. Today, Kingsburg's iconic 122-foot, lighted water tower in the shape of an antique Swedish coffee pot pays homage to the city's heritage. Every May, the Kingsburg Swedish Festival draws thousands to the city for Swedish pancakes, parade, and Swedish Festival Queen coronation.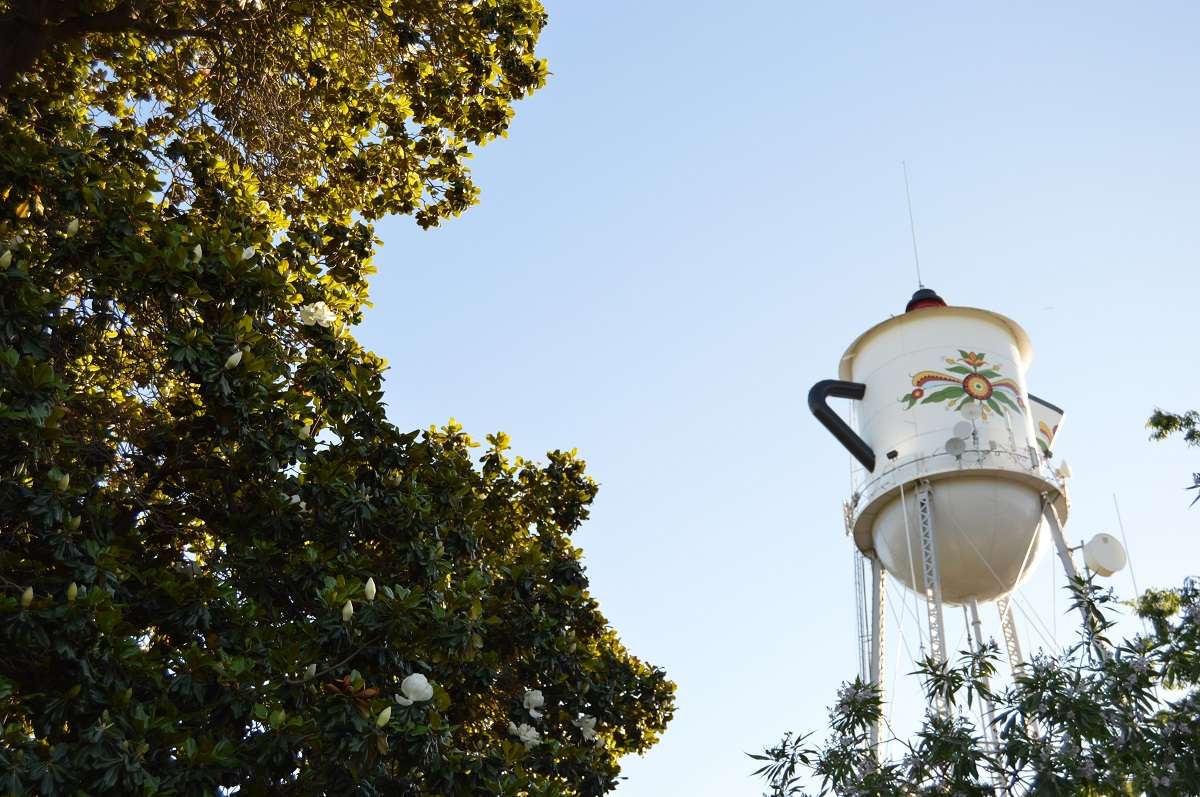 Smaller Fresno County Cities & Towns
Most of Fresno County is made up of small, agricultural communities – the Fresno-Clovis area is the only large population center. After the ten cities above, there are 15 Fresno cities and CDPs with at least 2,000 people plus another 19 communities that are even smaller.
CDPs & Cities in Fresno Co.
(2,000 to 10,000 Population)
Population
Municipality
Orange Grove
9,649
City
Firebaugh
8,096
City
Fowler
6,700
City
Huron
6,206
City
Old Fig Garden
5,477
CDP
Mayfair
5,299
CDP
Sunnyside
4,468
CDP
Tarpey Village
4,067
CDP
San Joaquin
3,743
City
Squaw Valley
3,688
CDP
Auberry
3,092
CDP
Calwa
2,517
CDP
Riverdale
2,513
CDP
Caruthers
2,171
CDP
Easton
2,155
CDP
There are also 19 CDPs in Fresno County with a population below 2,000.
Small Towns Near Fresno: CDPs in Fresno County
(Population <2,000)
Big Creek
Friant
Raisin City
Biola
Lanare
Shaver Lake
Bowles
Laton
Three Rocks
Cantua Creek
Malaga
West Park
Centerville
Millerton
Westside
Del Rey
Minkler
Fort Washington
Monmouth
Cities in Fresno County Map
Does living in one of these charming cities in Fresno County sound like a dream? Whether you have your eyes set on the big-city appeal of Fresno or you're looking for small-town life in one of the many Fresno County towns, the 5-star movers at Southbay Moving Systems are here to help. Give us a call today for a free, personalized moving quote!