The California Central Coast is famous for its agriculture and wineries as one of America's most fertile farming regions. It's also home to what is arguably California's most beautiful and dramatic coastline. Unlike Southern California and the San Francisco Bay Area, the Central California Coast is dotted mostly with tiny, picturesque towns and small cities with long stretches of pristine shoreline.
If you're planning a visit to the Central Coast region or even thinking about moving to the area, here are just some of the best Central California beach towns you should see for yourself.
What Is the Central Coast of California?
The Central California Coast is a large region stretching from Point Mugu in Ventura County to Monterey Bay. The Central Coast California area includes about 350 miles of coastline ranging from sandy beaches to dramatic, rugged cliffs.
There are six Central Coast counties: Ventura, Santa Barbara, Monterey, San Luis Obispo, Santa Cruz, and San Benito, although San Benito is slightly inland and has no coastline.
There are four main regions of the California Central Coast:
Santa Barbara
San Luis Obispo (SLO)
Monterey Bay
Ventura
Central California Coastal Towns – Monterey Bay Area
The Monterey Peninsula and surrounding bay area is home to some of the most iconic California coastal towns, the famous Big Sur region, and a famous aquarium that was the first to exhibit a living kelp forest and the only one in the world to successfully display a great white shark. Here are the best Central Coast California cities and towns in the Monterey Bay region.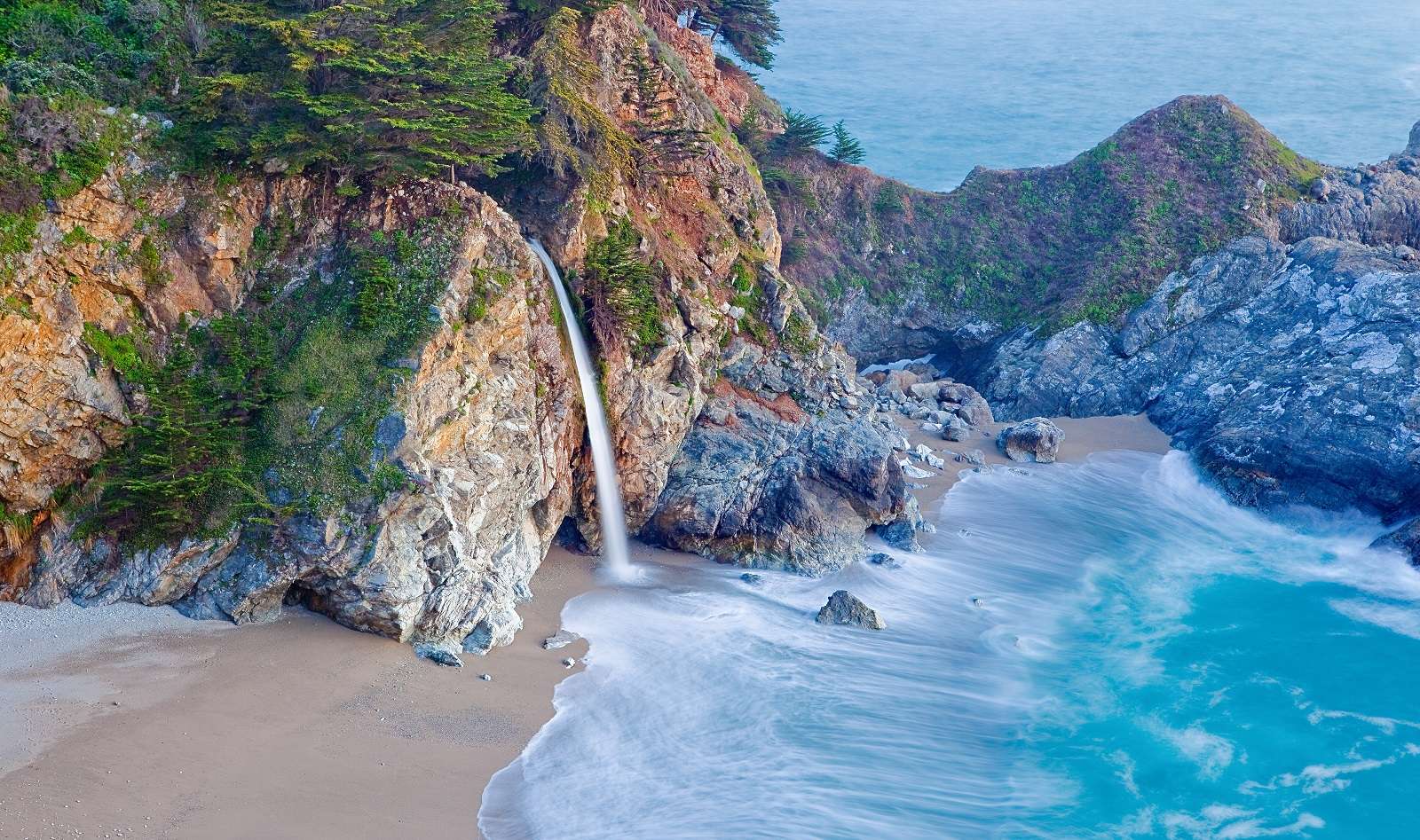 Big Sur
The Central Coast of California isn't all charming beach towns and wide-open stretches of beaches. The Big Sur area is a rugged, 90-mile stretch of the Central Coast with steep seaside cliffs and dramatic views. Catch glimpses of the ocean through the mist as you drive through giant redwoods along Highway 1. Stop at Big Sur Village, a collection of homes and businesses, for essentials if you're planning on hiking or surfing in the area.
Don't miss McWay Falls, just half a mile from parking, at one of the most stunning beaches in Central California. This 80-foot waterfall becomes a tidefall during high tide and empties right into the Pacific.
Monterey
One of the most visited Central California coastal cities, Monterey is home to the renowned Monterey Bay Aquarium and Old Fisherman's Wharf, two popular Central Coast attractions. Whether you're just visiting or thinking about living in Monterey, you'll fall in love with the city's fresh seafood and family-friendly attractions.
The iconic Monterey State Beach is one of the most famous Central California beaches and stretches from Monterey to neighboring Seaside. Enjoy everything from fishing to surfing to paragliding!
Carmel-by-the-Sea
Carmel-by-the-Sea, better known as Carmel, is one of the best Central Coast California towns in the Monterey area. Carmel is famous for its artist colony history, picturesque European-style village atmosphere, and the Carmel Mission. Built in 1797, it's one of the best restored California missions.
One of the highlights of this Central California coastal town is Point Lobos State Natural Reserve, an exceptionally stunning state park with scuba diving, snorkeling, whale watching, and hiking.
Art lovers won't want to skip the Carmel Art Association Gallery, the oldest art gallery in Carmel with work by 100+ local artists.
View this post on Instagram
Pacific Grove
One of the largest Central Coast cities on the Monterey Peninsula, Pacific Grove is a great place to spend the night if you're exploring the Monterey area. This charming city is known for its Victorian homes, many of which are converted bed-and-breakfast inns and pristine coast.
Take a drive along main street to enjoy the ocean view, visit Point Pinos Lighthouse – the oldest continually operating on the Pacific! – and pay a visit to the Pacific Grove Museum of Natural History and the Monarch Butterfly Sanctuary between October and March when the butterflies migrate back to the area.
Our Pacific Grove living guide covers everything you need to know about this coastal community.
Marina
Marina is one of the largest Central Coast California cities near Monterey. This Monterey Bay city, just 9 miles north of Monterey, is a windswept beach community known for the Fort Ord National Monument and Marina State Beach. The beach stretches below high dunes and offers great paragliding and hang gliding. This coastal city is also home to Skydive Monterey Bay, one of the top Central Coast things to do for thrill-seekers.
Find out more about what it's like visiting or living in Marina CA with our complete guide.
View this post on Instagram
California Central Coast Cities & Towns Near San Luis Obispo
The San Luis Obispo area is known for its wineries, historic architecture, and famously charming Central Coast California towns. There are several small towns on the shore an easy drive from SLO, including two of the state's most famous coastal towns: Pismo Beach and Morro Bay.
Cayucos
One of the smaller Central California beach towns, Cayucos is often overlooked but offers the quintessential Central Coast atmosphere. Take in more than six miles of white sand beaches and the iconic 950-foot pier at Cayucos State Beach. Swim and surf during the day, then hit the pier for night fishing. Mackerel, skate, halibut, white croaker, and more are often caught here.
Avila Beach
One of the best beach towns near San Luis Obispo, Avila Beach is a charming town that's home to the Avila Hot Springs with a heated pool and hot mineral soaking pool plus water slides.
The town is just 10 miles from SLO on the San Luis Obispo Bay. It's one of the top Central Coast beach towns to visit with kids with plenty to see and do. Shop for produce and pet the animals at Avila Valley Barn then stop by the small, nonprofit Central Coast Aquarium. Avila Beach is home to Pirate's Cove Beach, a well-known Central California clothing optional beach popular with locals for nude volleyball. The nearly 1700-foot Avila Beach Pier is a more family-friendly destination. One of three piers in Avila Beach, it's just across from downtown.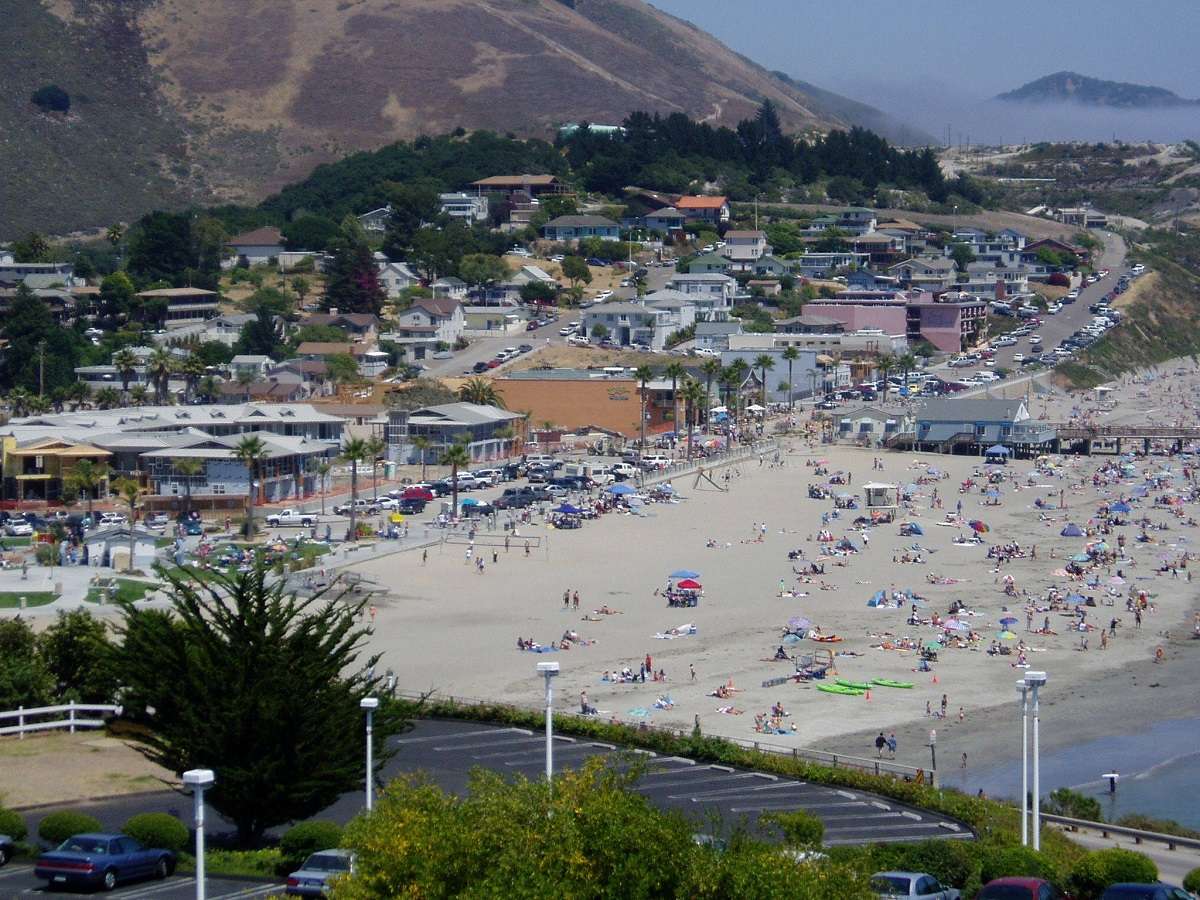 Morro Bay
One of the most iconic Central Coast cities, Morro Bay is home to the famous Morro Rock volcanic formation at Morro Rock Beach. A visit to Morro Bay State Park is one of the best things to do in Central Coast California near San Luis Obispo. Enjoy camping at well-equipped seafront Morro Bay campgrounds, hiking around the lagoon, fishing, and more. The park is also home to a marina, golf course, and the Museum of Natural History.
Pismo Beach
Pismo Beach is one of the most famous Central California coastal cities that's known for not only its gorgeous beaches but also its wineries. You'll find many tasting rooms near downtown Pismo Beach like Tastes of the Valleys and the Monarch Grove Winery Tasting Room.
Outdoor recreation is what makes this one of the best Central California beach towns. Visit the shore and dig for your own Pismo clams and catch the major Pismo Beach Clam Festival held every year. Dinosaur Caves Park is one of the best places to visit in Central California for families. This unique park is located on the bluffs with a playground and breathtaking ocean views. Visit the Monarch Butterfly Grove during the cold months to see the butterflies flock.
Pismo State Beach stretches across Pismo Beach, Oceano, and Grover Beach with a 1,200-foot fishing pier, surfing, and kayaking.
San Simeon
One of the smallest Central Coast California towns, San Simeon is also one of the most interesting places to visit along the coast. It's best known for the striking Hearst Castle, a Spanish Colonial and Mediterranean-style mansion built over 28 years for William Randolph Hearst on a hill overlooking the village.
This small coastal village also boasts one of the most unique things to do in Central Coast California: spot a large herd of wild zebras! Hearst, a newspaper tycoon, once had the world's largest private zoo with everything from grizzly bears and chimpanzees to giraffes and leopards. Most of the animals were donated or sold to zoos and preserves when Hearst's fortune faded, but the zebras (along with Barbary sheep and some others) remain.
There are more than 120 zebras roaming the land below Hearst Castle. You may spot them while driving along Highway 1.
View this post on Instagram
Cambria
Halfway between Los Angeles and San Francisco is Cambria, one of many picturesque Central Coast California towns in SLO County. Cambria is best known for Moonstone Beach with its brown sand, ocean-polished smooth stones, and boardwalk running parallel with Moonstone Beach Drive. The village also has a charming main street with art galleries, boutiques, and restaurants to explore.
For outdoor lovers, Fiscalini Ranch Preserve is a can't-miss destination with an extensive network of scenic trails, including the Bluff Trail which winds along the bluff high over the ocean.
Other Central Coast California Cities to Visit
There are many other great California Central Coast towns to visit or settle down outside the Monterey Bay and SLO areas. Here are just a few more beautiful destinations to check out.
Santa Cruz
One of the largest California Central Coast cities, Santa Cruz is just 35 miles north of Monterey and 70 miles south of San Francisco at the north end of Monterey Bay. Santa Cruz is among the best Coastal California cities for families, millennials, and young professionals. The city is home to a thriving arts community, fantastic food scene, historic architecture, and some of the top attractions in the region.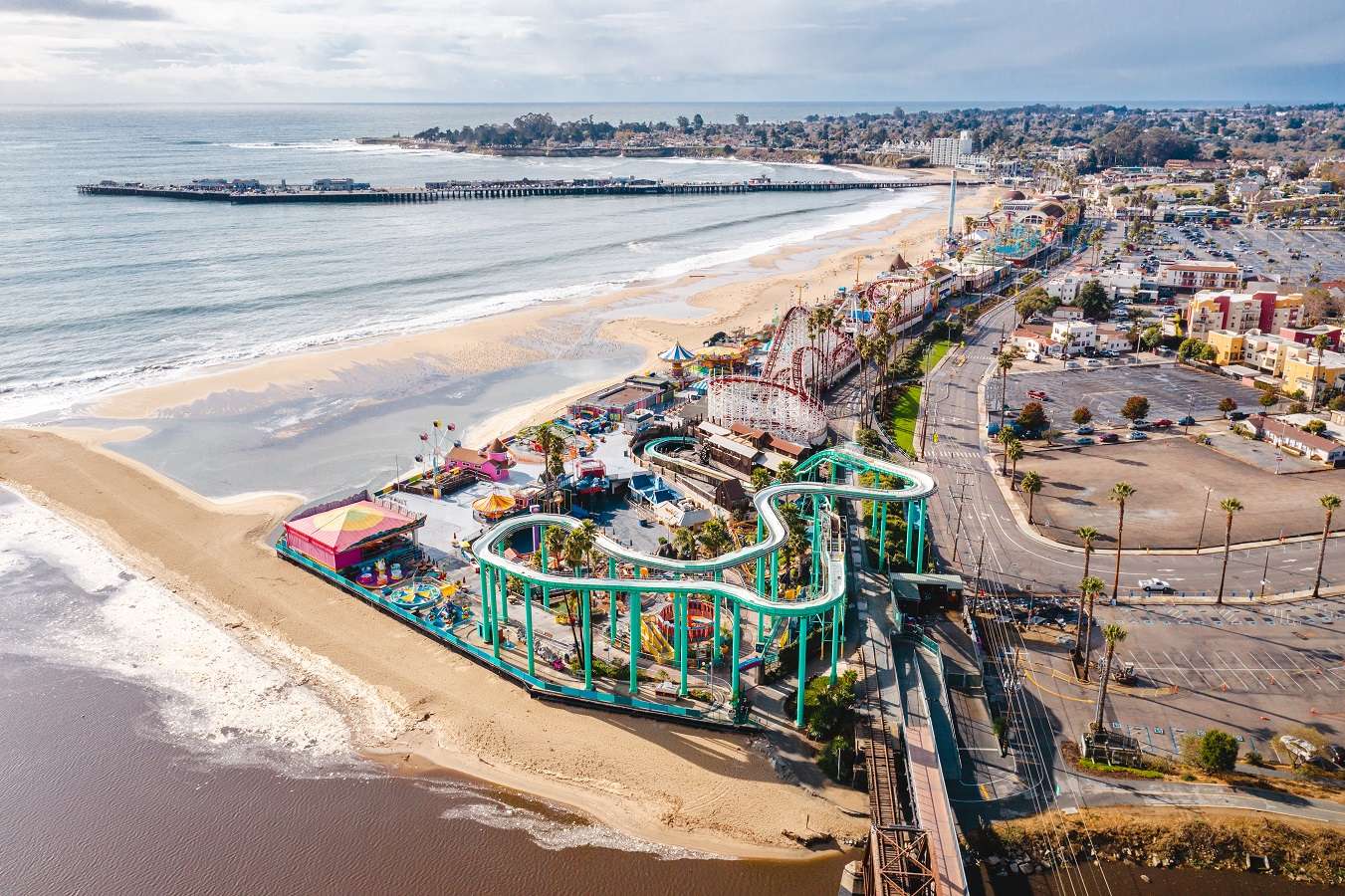 Natural Bridges State Beach in Santa Cruz features towering rock bridge formations and easy access to tide pools. The Santa Cruz Wharf is an iconic destination for fishing, sea lion viewing, and boat tours. Santa Cruz Beach Boardwalk is one of the only remaining seaside amusement parks on the West Coast and the state's oldest. Visit the boardwalk to ride the roller coasters, play games, and enjoy fun events like Free Movies on the Beach or Live Music on the Colonnade.
Ventura
Ventura is the most southern of Central Coast cities, just 70 miles north of downtown Los Angeles and 28 miles south of Santa Barbara. Officially known as San Buenaventura, Ventura is also the largest of California Central Coast cities with more than 110,000 people.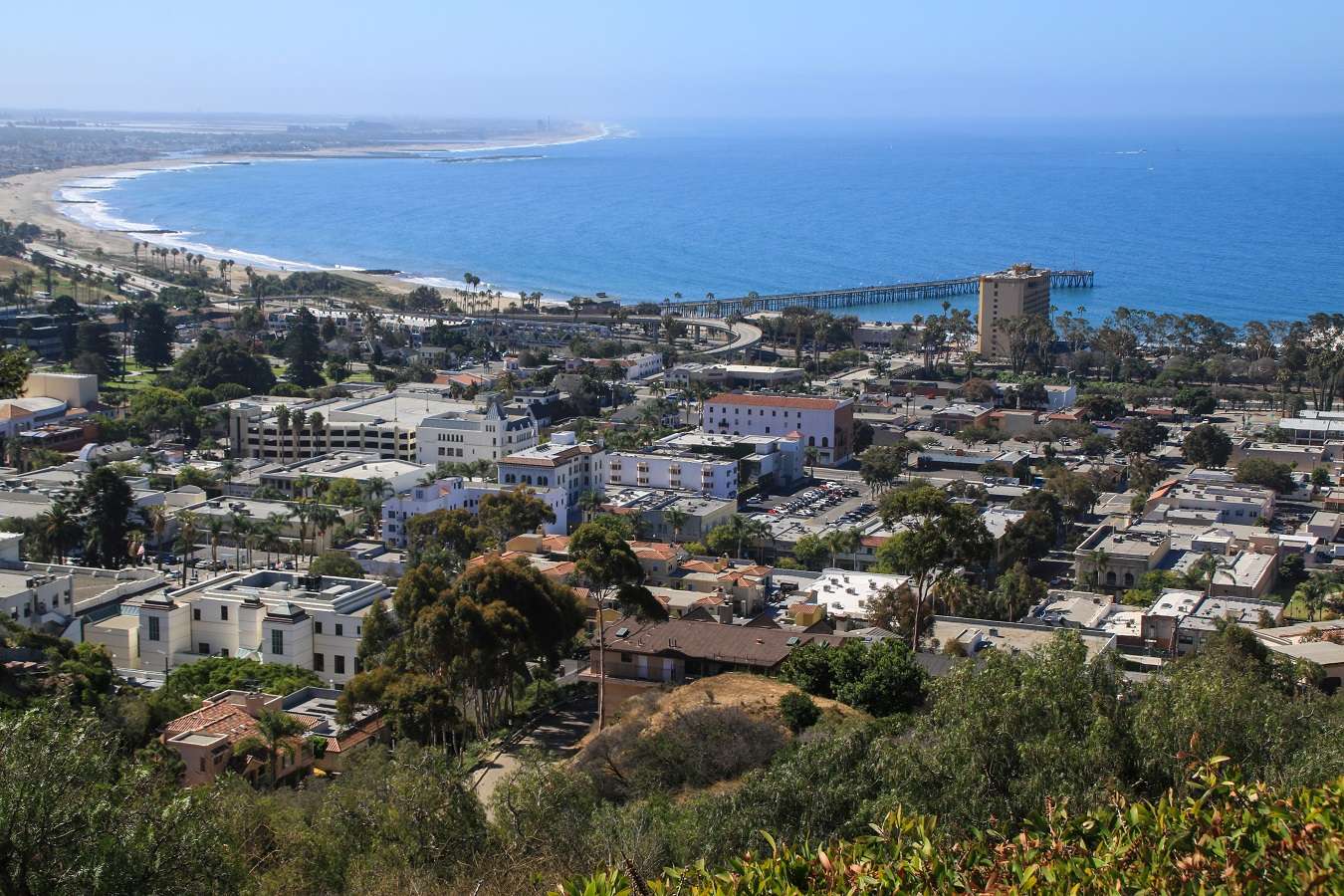 Ventura is home to dozens of fun things to do on the Central Coast. The iconic San Buenaventura State Beach is a popular draw with the wooden Ventura Pier while Surfer's Point is an iconic spot for windsurfing and surfing. The downtown area is home to the 1782 Mission San Buenaventura, one of the original California missions. One of the most unique things to do in the city is take a boat to Channel Islands National Park with sea caves, rare Torrey pines, and island fox that only live on the islands.
Carpinteria
One of the small Central California Coastal towns in the Santa Barbara area, Carpinteria is a quiet seaside community known for its great surfing and unique natural attractions. Visit the town to explore everything from a salt marsh and coastal bluffs to the Carpinteria Tar Pits, one of just five natural asphalt lake regions in the world along with the more famous La Brea Tar Pits.
Central Coast California Map of Towns & Cities
If visiting the California Central Coast isn't enough and you're ready to make your home in one of these beautiful towns or surrounding communities, Southbay Moving Systems can help. Give us a call for a free moving quote from the best Central California movers!