Fresno is a major city in the San Joaquin Valley and is located near the geographical center of California. Being the economic hub of Fresno County and the San Joaquin Valley, it is the largest city in the greater Central Valley region. Residents love top-rated Fresno neighborhoods because they have big city living and small city charm. 
Here, you can enjoy all of the amenities of a bustling city with small-town ease. There are plenty of amazing restaurant scenes, schools, shopping, affluent and affordable neighborhoods, and city-lover attractions while having many community events and friendly neighbors to please small-town hearts.
There's a lot to love about living in Fresno: award-winning schools, great job opportunities, world-class healthcare, beautiful neighborhoods, and a famous local college. Whether you're looking for a fun nightlife or a quiet, safe residential neighborhood, you'll find it.
Wondering where to live in Fresno? Here are our top picks for the eight best Fresno, CA neighborhoods!

Woodward Park
– One of the Safest Neighborhoods in Fresno
Woodward Park is about 70% safer than other neighborhoods of Fresno – creating a secure and protective environment for you and your family. Educational institutes, buses that run on Sunday, and lake views all around the location give you more reasons to start living in this neighborhood. 
It can be perfect for retiring because of the place's calm and peace. The neighborhood gives off the vibes of a rural area while featuring all amenities nearby. Woodward Park also offers a gay-friendly neighborhood and safety. Gay bars downtown go back to World War 2 when people from neighboring places started to move here to feel at home. 
Here, locals love visiting Artists Bistro to enjoy music, romantic ambiance, and mouthwatering steak at your table. It's also home to Woodward Park, next to the San Joaquin River, giving the neighborhood its namesake. 
Fig Garden
– One of the Most Affluent and Scenic Neighborhoods in Fresno, CA
Fig Garden is one of the wealthiest areas in the Fresno neighborhood. But that's not it. Nature keeps your mind in place with contentment and satisfaction, and in Fig Garden, you will find ways to connect to nature. It is filled with tall and beautiful trees. They solely make up the neighborhood's magical scenery and provide shade to biking and walking tracks. 
These trees have been growing since the early 1900 and are historically essential to the location. Locals love to walk on breathtaking trails and bike around the town, making them more fit and giving them more opportunities to enjoy the environment around them. 
With adobe, ranch, and bungalow architectural styles, the Fresno suburb is filled with property and homes that look pleasing to the eyes. Families can bring their children to Figarden Loop Park and enjoy the recreation activities and a baseball field. And suppose you're someone who loves Italian cuisine. In that case, the neighborhood features Ovidio Italian, which has the best Italian food in town with its family-exclusive recipe. 
If one-stop shopping at an upscale, charming shopping mall is what attracts you, feel free to shop at Fig Garden Village. The outdoor shopping center offers shaded seating areas, famous brands, and a food court to satisfy taste buds.  
McLane – Affordable Neighborhood in Fresno with Good Schools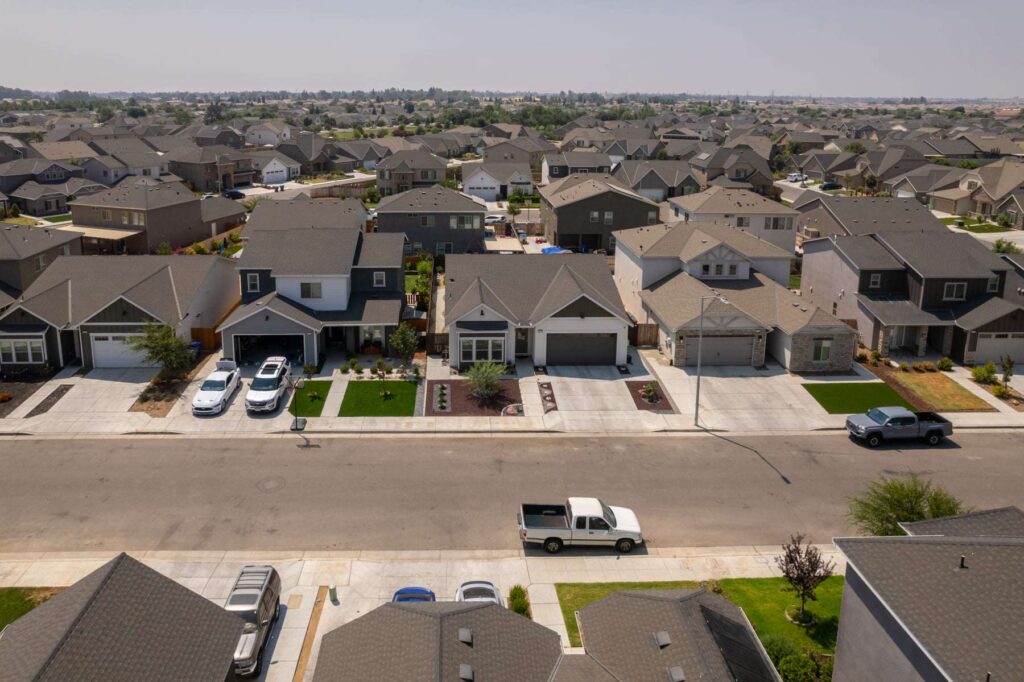 Image by Leslie Lawson via Facebook
Looking for the most affordable place to live in Fresno, CA? McLane is a great option if you want to live near downtown with a lower cost of living. Located in northeastern Fresno, McLane offers affordable, spacious homes, one of the city's top-rated elementary schools, and plenty do do in the area. Go fishing at the Fresno Discovery Center, stop by to see the animals at the Fresno Chaffee Zoo, and play games at Blackbeard's Family Entertainment with the whole family – all right in your own backyard!
Bullard
– Affordable Fresno Neighborhood for Working Families
Bullard is one of the largest neighborhoods in Fresno and home to more than 99,000 people. Located in northwest Fresno, this sprawling community is popular thanks to its ideal location. Residents have easy access to Highway 41 and SR 99 with downtown Fresno less than 15 minutes away and the airport only 11 miles away. You'll find homes for every budget with mostly single-family ranch and mid-century modern homes.
Hoover
– Best Neighborhood in Fresno for Outdoor Recreation
The Hoover Fresno neighborhood is a family-friendly community best known for its outdoor recreation and ideal location. Scenic places like San Joaquin River, zoo, or water sports can be your place to unwind from the stress of life and spend your weekends in. The public transportation of the place is quite connected and accessible-you can go to downtown Fresno, nearby shopping sprees, and other necessary locations in no time. Downtown Fresno can be reached within 15 minutes of driving or 40 minutes on a bike.
Tower District
– Fresno's Coolest and Gay-Friendly Neighborhood
View this post on Instagram
Tower District was built in the 1930s but is now popular among youth for nightclubs and bars -the place is perfect for vibrancy. Tower District is the Fresno neighborhood to let yourself free and enjoy life while you can. It is filled with jazz bars, events, party nights, and musicals all over the place. 
The business hub is surrounded by incredible, classic housing types, ranging from townhouses and apartments to mansions and craftsman bungalows. The business owners and residents have a unified sense of ownership and pride in the district, making it one of the safest neighborhoods in Fresno. 
This neighborhood is as diverse as Fresno itself. It's home to families and singles, white-collar and blue-color, conservative and liberal, students and retirees –  all welcome here! 
You should definitely move here to live a life of colors and fun. It provides a modern chic vibe during the day through fancy restaurants like Strummers Bar & Grill, museums, and art galleries. The neighborhood also offers musical comedies accompanied by American cuisine at Roger Rocka's Dinner Theater. The architecture and homes of the place are comforting, friendly, and inclusive of every ethnicity, race, and queer people. You will have a positive outlook on life and the people there. 
If you're a young professional, gay, or love living in a vibrant and bustling community, this cool neighborhood in Fresno is a great option for you! Check out our complete guide to living in the Fresno Tower District to learn more.
Sunnyside
– Best Fresno Neighborhood for Retirees and Seniors
Image by Miguel Gonzalez via Facebook
Sunnyside is perfect for families and retirees. It offers a nearby highway and every essential living service nearby. Sunnyside can be your sunny side of life because of the top-notch lifestyle and living essentials the neighborhood provides. 
You can move to this Fresno neighborhood to enjoy more solitude and a suburban feel. Families love the great private and public schools including Sunnyside High School. 

But that's not all; Sunnyside offers some delicious restaurants, like Di Cicco and Sunnyside Diner. Here, you can enjoy home-cooked food, American cuisine, and Italian food to satisfy your taste buds. 
Mural District
– One of the Hippest Neighborhoods in Fresno for Art Lovers
The Fresno Mural District is heaven for art lovers with great literature, arts, and culture. It contains the essence of art and love that shows on the streets, walls, and around the building. If you are an artist, you should move in here and get inspiration from all over the town. It is filled with color, history, and stories to tell. 
You can see various sculptures, art pieces, and galleries around the town. The place also contains dazzling restaurants, like Toldedito's, where you can enjoy Mexican cuisine with heavenly taste, museums, competitions, and various events to spend the days with recreational activities. People who want to live in solitude and devote their life to their skills should choose this Fresno neighborhood for its heartwarming vibes.
Fresno Neighborhoods Map
Explore the best neighborhoods in Fresno, CA to find your new home!

Is Fresno a good place to live? Fresno neighborhoods are a great place to live with a competitive schooling system, sightseeing places, dazzling restaurants, inclusive community, and several amenities in an affordable range. You can choose one of the listed neighborhoods per your preference, lifestyle, and budget. The city is suitable for moving in with your family, spouse, or yourself. These neighborhoods above are some of California's safest, tightly-knitted, and welcoming places. 
If you're planning to relocate to or within Fresno, Southbay Moving Systems is ready to help. Call the best Fresno movers today to get a free, personalized moving quote!